While a lot of business promotion is now done in the online world, there is still a lot to be said for some of the old-fashioned ways of drumming up interest. One of these is certainly attending trade shows. However, if you are going to go down this path, you need to make sure that you have a clear strategy to ensure that you maximize your opportunities from it. So, here are a few handy trade show hints and tips that you can put into practice.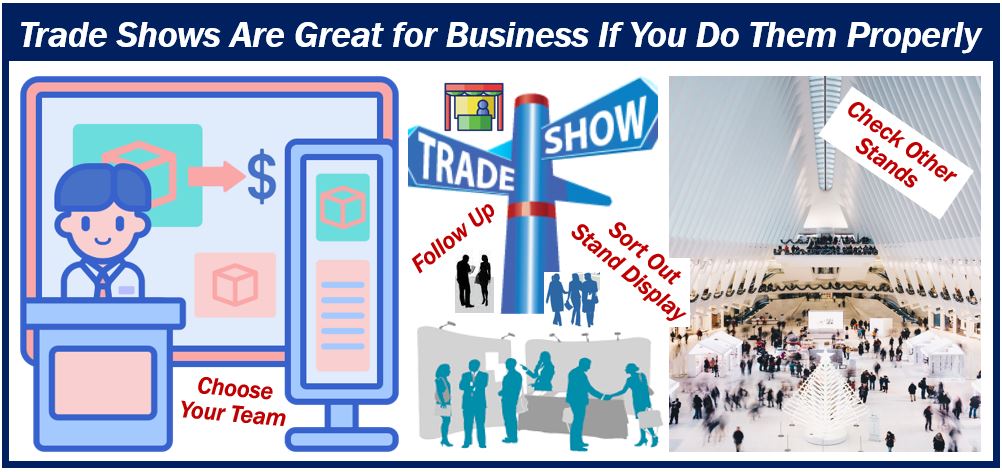 Choose Your Team
Going to a trade show alone is a mistake. For every minute that the stand is left unattended, this is going to result in people not being able to ask questions and get information. Also, you will not have the opportunity to wander around the other stands and do some invaluable networking, which is a big part of what going to a trade show is all about. You should also think about the people that you bring with you in terms of how enthusiastic and sales-minded they are. What sort of impression do you think people are going to be left with after speaking to them?
Hire Promotional Models
Hiring a 
promotional modeling agency
 is like partnering up for success! They will help you promote what products or services that are important to your industry and generate new business. Not only this but it creates brand loyalty which means people who come across the booth know exactly who they need when deciding between options.
Sort Out Your Stand Display
Your stand at the trade show is going to be the main way that you are able to bring people over and generate interest in your company. With this in mind, you need to ensure that you sort out the stand display. First of all, this means printing off your banners and posters, as well as ensuring that your company branding is clear and obvious. Not only this, but you should also look into getting some eco friendly promotional products as these will give people something to take away with them, ensuring that you stick firmly at the forefront of their mind. You should also ensure that you strike the right balance between the stand not looking too cluttered and overwhelming as well as not looking bare and barren.
Take the Time to Visit the Other Stands
Rather than simply spending all of your time on your own stand, it is also worth taking the time to see what else is on offer. You may find that you are able to make some important business connections along the way, as well as getting your hands on some goods and services that your company needs for its future. Not only this, but by making these connections now you increase the odds that people are going to visit your stand in the future.
Prepare to Follow Up
Your work is certainly not done when you have left the show. Your next steps involve ensuring that each and every lead is properly followed up. Otherwise, it is more than likely that your business is going to slip the minds of the people that you met, and you could end up having wasted your time.
Making the most of your trade show experience is highly important and you should certainly make sure you do so.
---
Interesting related article: "What is a Marketing Strategy?"