Toyota profits nearly doubled to ¥1.82 trillion ($17.8 billion) in the year ending March 31 compared to ¥962 billion the year before, thanks to a cost-cutting program and a weaker yen, the company announced today.
In February, Toyota had predicted a ¥1.9 trillion profits, however.
Japanese companies have benefited from a weaker yen, which has declined in value against the dollar by 18% since the beginning of 2013, especially those that rely on overseas sales.
According to the world's largest car manufacturer, a weaker yen helped raise its profits by approximately ¥900 billion.
Toyota Motor Corporation President Akio Toyoda said:
"Our consolidated operating income increased due to increased vehicle sales mainly in Japan and North America and to group-wide cost reduction activities."
The Toyota Motor Corporation has its headquarters in Toyota City, Japan. The company employs 333,498 workers worldwide.
Worldwide Toyota vehicle sales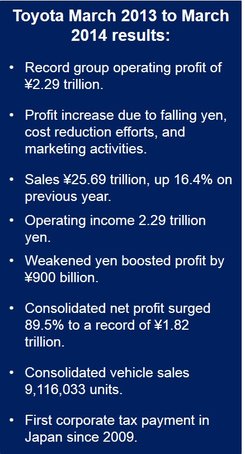 Consolidated vehicle sales: 9, 116,033 units (245,369 more than the previous year).
Japan: 265,410 units (86,614 more than the previous year).
North America: 2,529,398 units (60,594 more than the previous year).
Europe: 844,003 units (44,918 more than the previous year).
Asia: 1,608,355 units (75,223 more than the previous year).
S. America/Oceania/Africa/Middle East: 1,768,867 units (128,466 more than the previous year).
Toyota's forecast for the coming financial year a profits decline to ¥1.78 trillion. Car sales are likely to fall this year in Japan. Japanese sales of its Lexus and Toyota brand of cars during the next twelve months are forecast to drop to 1.45 million vehicles from 1.65 million last year.
Japan's Prime Minister Shinzo Abe has raised sales tax (consumption tax, VAT) from 5% to 8%, the increase went to effect in April 2014. Consequently, purchases are forecast to fall.
Millions of Toyota cars recalled
In April, Toyota said a total of 6.4 million cars had been recalled during the last 12 months, with almost half of them requiring the replacement of a spiral cable that is attached to the driver's side airbag.
Other faults included the seat rails, steering columns, windshield wipers, and a fault with the engine starter that raised the risk of fire.
The company had to pay a $1.2 billion fine in the United States related to safety issues that led to recalls in 2009 and 2010.
First tax payment in Japan since 2009
Toyota paid corporate tax this year in Japan for the first time since 2009. Mr. Toyoda, who described the tax bill as a badge of honor, said "Being able to pay corporate taxes means we are contributing to society."
Since Toyoda became president in 2009, Toyota has been exempt from corporate taxes in Japan, even though it was liable for them in the United States and other countries where most of its money is made.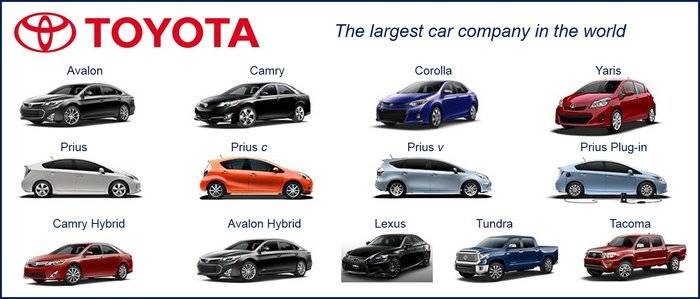 (Source: Toyota)
Toyota predicts a US & Europe sales rise, but not elsewhere
The Japanese carmaker predicts that the economic rebound in Europe and the US will raise sales over the next 12 months, but added that vehicle sales in Japan would fall by 165,000. Results may also be undermined by political and social problems in some emerging markets, such as Thailand.
As the Yen stabilizes against the dollar and euro, several Japanese companies are issuing conservative forecasts for the next 12 months.
Companies and lobby groups in Japan are urging the government to reduce the current 35% corporate tax rate, which is much higher than in several other advanced economies. In the United Kingdom corporate tax stands at 21%.