A Chinese April international trade rebound was announced by the country's General Administration of Customs. This is the first positive sign that the world's second largest economy is not slowing down in the first quarter of 2014 as many analysts have been fearing.
Exports increased by 0.9% in April 2014 compared to April 2013, after falling 18.1% and 6.6% in February and March respectively.
Economists in the US and UK say April figures suggest that exports during the second half will be solid, as the US economy gains momentum after a slow first quarter. April's figures show healthy growth in Chinese exports to the United States and Europe.
Imports rose by 0.8% compared to April 2013, after declining by 11.3% in March. Demand for oil, iron ore and other commodities increased.
At $18.5 billion, China's trade surplus was virtually unchanged compared to April 2013. Exports were $188.5 billion while imports came in at $170.1 billion. China had run a trade deficit in January and February 2014, and then a $7.7 billion surplus in March.
China's trade surplus with the US in April increased by 19.7% to $17.6 billion compared to April 2013, and increased by 3.7% with the European Union to $8.2 billion over the same period.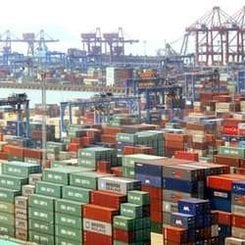 Domestic consumption matters more
For the Chinese Communist Party members, however, domestic consumption is what concerns them the most as they try to shift reliance from export-investment led growth to domestic-consumption led growth.
However, some Chinese economists may be encouraged by the Chinese April international trade rebound, which will suggest that the rebalancing efforts are not detrimentally affecting other parts of the economy.
In an interview with the Wall Street Journal, Qinwei Wang, senior economist at Capital Economics, said:
"A part of reforms is to improve market efficiency and the allocation of resources so China can achieve greater productivity. Even steady export growth offers some leeway for Chinese leaders to make the shift."
GDP slowed down in Q1 2014
During the first quarter of 2014, Chinese GDP (gross domestic product) grew by 7.4% compared to 7.7% in the last quarter of 2013. Chinese authorities blamed the Q1 2014 slowdown on the Lunar New Year holiday, when most businesses and production plants close down for about half a month.
In four of the last six quarter Chinese GDP growth has slowed down. According to Beijing, this is acceptable as long as the growth is "solid and sustainable."
Earlier this year China announced the extension of a tax break for small and medium-sized firms, increased spending on the country's railway network, as well as the launching of a free-trade zone in Shanghai.
The free-trade zone is seen as a testing bed for reforms in certain areas of the economy, such as the telecommunications and financial sectors, which were previously closely controlled by the state. Opening up these key sectors is a vital component of China's drive for long-term, sustainable economic growth.
The larger-than-expected April trade growth will ease pressure on the government to take further measures to boost the economy.
---
Video – What is International Trade
International trade refers to trade between countries, i.e., countries buying and selling things to each other.
---