[showads ad="rectangle"]The Japanese Leading Economic Index declined 0.3 in March, the fourth consecutive fall, according to figures published by The Conference Board. Business confidence in March fell for the first time in a year.
The largest contributors to the March's LEI (Leading Economic Index) decline were dwelling units started, construction and new orders for machinery.
Including March's fall, the LEI remained unchanged since September 2013, a considerable fall compared to the 4.9% growth (equivalent to approximately 10.1% annualized) during the previous six months.
Nevertheless, the LEI authors pointed out that the leading indicators are more widespread than the weaknesses.
Of the ten components that make up the LEI, three increased in March, and they were (inverted) business failures, interest rate spread and overtime worked. The negative contributors were the Tankan business conditions survey, labor productivity growth over six months, stock prices, real money supply, dwelling units started, new orders for machinery and construction.
After the March fall of 0.3%, the Japanese Leading Economic Index now stands at 100.3 (2004-100), after falling 0.2% in February and 0.3% in January.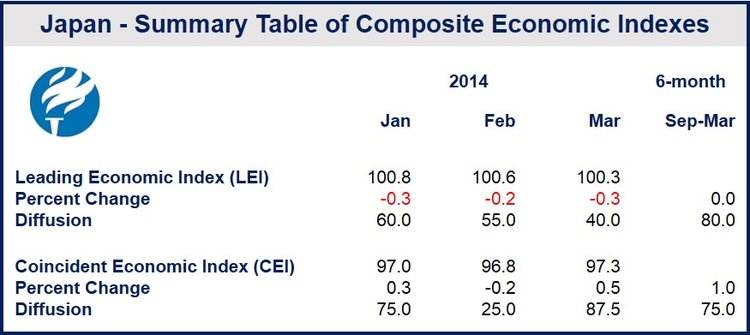 (Source: The Conference Board)
Japanese March Coincident Economic Index (CEI)
The CEI for Japan in March, which measures current economic activity, showed sales, industrial production and employment making positive contributions.
The CEI grew by 1% (approx.. 2.1% annualized) for the six-month period ending in March, compared to zero growth during the previous six months. The strengths among the indicators continued to be widespread.
Japan's CEI now stands at 97.3, after falling 0.2% in February and rising 0.3% in January.
Real gross domestic product (GDP) growth was 0.6% annualized in Q4 2013, less that the 0.9% annualized recorded in the previous quarter.
In spite of recent improvements in the CEI, the slide in the LEI since the end of 2013 suggests that a shrinkage in the coming is becoming more likely.
Mixed economic signals coming from Japan
During the first quarter of 2014, economic data coming out of Japan provide a mixed picture of the country's current economic position and outlook.
March retail sales grew by 11% to ¥13.731 billion, a 17-year record, as consumers rushed to get their purchases in before April's sales tax (consumption tax, VAT) tax hike from 5% to 8%. It was the eighth consecutive month of retail sales growth.
The March Japanese trade deficit quadrupled to ¥1.446 billion ($14.1 billion) compared to ¥356.99 billion($3.48 billion) in March 2013. A weak yen raised the price of imports, which also increased due to a rise in energy imports after the country shut down nearly all its nuclear power stations following the 2011 Fukushima Daiichi nuclear disaster in 2011.
In February, industrial production fell by 2.3%, according to data published by Japan's Ministry of the Economy, Trade and Industry, the first shrinkage in three months.