Global employment figures improved across advanced economies as unemployment rates fall and new jobs growth accelerated, according to figures published by The Conference Board International Labor Comparisons for March 2014.
The report, which compared the unemployment rates of nine countries – Japan, the US, Canada, France, the Netherlands, Sweden, Germany, Italy and Australia – reported that rates fell in three of them, remained unchanged in five, and increased just in Japan.
Unemployment fell by 0.3 to 5.8% in Australia, the country with the steepest decline, followed by Germany which declined 0.1 point to 5.1%, and Italy which also fell 0.1 point to 12.8%. Among the countries compared Italy has the highest unemployment rate.
France's unemployment is at its highest point since the mid-1990s.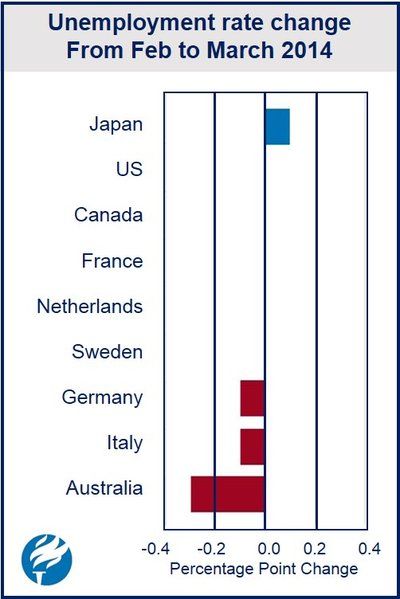 (Source: The Conference Board)
US, Canadian & European labor markets improved
Elizabeth Crofoot, Senior Economist with the International Labor Comparisons program at The Conference Board, said:
"In March, labor markets in the U.S., Canada, and Europe improved as steady or falling unemployment rates were coupled with gains in employment. Although Japan saw joblessness edge upward in March, the country's unemployment rate remains the lowest (3.2 percent) of the economies compared."
"As employment nears pre-recession levels, labor market recovery in Japan is likely to continue in the coming months."
New employment grows
March employment increased in all the economies compared, with the exception of the Netherlands.
The United States, Sweden and Italy, each with a 0.3 point gain over February, saw the steepest grains.
The United States at 99.8 is the closest to 2007 employment levels (2007=100) it has been since the Great Recession.
Japan inched up 0.2 point to 99.5. Italy at 96.8 has the lowest employment index, while Australia at 112.5 has the highest, followed by Germany at 108.5 and Canada at 107.5.
US unemployment down but workforce also down
The Bureau of Labor Statistics reported that US unemployment declined 0.4% to 6.3% in April, its lowest level since 2008, while employers added 288,000 jobs. However, it also informed that 806,000 fewer Americans were in work.
Over the last 12 months, employment growth has average 190,000 per month.
Unemployment down slightly in Europe
Eurostat reported that Eurozone unemployment dropped by 22,000 to 18.913 million in March compared to February. There were 316,000 fewer unemployed people in the Eurozone in March 2014 compared to March 2013; a decline from 12% to 11.8%.
In the whole of the EU, including the countries that do not use the euro as their national currency, March unemployment fell by 66,000 to 25,699,000 – 929,000 fewer than in March last year.
Unemployment in the whole of the EU stood at 10.5% in March 2014 compared to 10.9% in March 2013.