A Toyota recall involving 6.4 million cars has been announced by the world's largest automobile maker. Nearly half of them (3.4 million) need a spiral cable that is attached to the driver's side airbag replaced.
The latest Toyota recall is related to faults with:
A fault with the engine starter that increases the risk of fire.
Windshield (UK: windscreen) wipers.
Turning steering wheel may deactivate airbag
The driver's airbag module in the affected vehicles is connected to a spiral cable assembly with electrical connections that might become damaged when turning the steering wheel. If damage occurs the warning lamp will light up, the airbag can become activated but may not work properly, Toyota USA wrote in a press release.
In the Toyota USA Newsroom, the company wrote: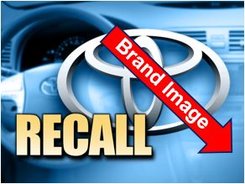 "Toyota is currently preparing the remedy for this condition. For all involved vehicles, a Toyota dealer will replace the spiral cable with an improved one. Once preparations are complete, Toyota will send an owner notification letter by first class mail and the remedy will be provided at no charge."
No deaths or injuries reported
According to Toyota, there have been two reports of fires, but none of any deaths, injuries or car crashes caused by these faults.
Six Toyota models and the Subaru Trezia – 20,000 vehicles – are being recalled so that the engine starter relays and the engine starter motor can be replaced.
Toyota is also recalling:
Nearly 160,000 cars with faulty windshield wiper motors.
Approximately 760,000 automobiles with a likely defective steering column bracket.
About 2.32 million vehicles with defective seat rails.
This recall, affecting 27 different models, including the RAV4, Corolla, Yaris, Matrix and Highlander, is the fifth major one made by Toyota in the last six months. In February, 2014, 1.9 million Prius hybrid automobiles were recalled after a software defect which caused the car to suddenly slow down was reported. A series of recalls totaling over 2.2 million vehicles were issued during the second half of 2013.
Over the last 30 months, more than 25 million vehicles have been recalled.
The recalls follow a recent Toyota agreement to pay $1.2 billion in a settlement with the Justice Department of the US after acknowledging it had misled customers about accidental acceleration problems in some of its vehicles. The sudden acceleration fault resulted in the recall of several million vehicles from 2009 to the end of 2011. Toyota acknowledged that it had manufactured and sold the automobiles when it knew about the safety problems.
Toyota reputation on the line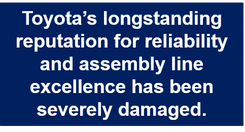 It does not take a marketing genius to understand that a string of recalls, especially when spanned over a number of years, can be the kiss of death for a business' brand image, to say nothing of investor confidence and employee morale.
In an interview with the Wall Street Journal, Peter Shervington, a product liability expert at global law firm Eversheds, says the impact on brand image of the latest recalls may be much greater than the direct costs of the recalls.
Shervington said:
"Each announcement puts another dent in Toyota's efforts to recover its reputation and resurrects questions about the impact of its strategy of rapid expansion on previously enviable standards of design and production quality."
Toyota recall, contact details
If you are concerned about your Toyota vehicle, you can get more details via the following customer web addresses or telephone helplines:
United States – www.toyota.com/recall, Tel. 1 800-331-4331. www.lexus.com/recall, Tel. Lexus Customer Satisfaction 1 800 255-3987.
United Kingdom – Toyota UK says it will contact vehicle owners during the next few weeks either by post or telephone and ask them to make an appointment to bring their vehicle to their nearest Toyota Centre, thus complying with DVSA guidelines.
You can check whether your vehicle is affected using a registration look-up function in the owners section of www.toyota.co.uk. Additional information can be obtained by telephoning the Toyota Recall Helpline on 0800 1388744.
Canada – customers can obtain more information at www.toyota.ca/recall, or call the Toyota Customer Interaction Centre at 1-888-TOYOTA-8 (1-888-869-6828).
Australia – affected customers will be contacted by mail and asked to make an appointment at an authorized Toyota dealer. The following Toyota recall telephone helpline is also available – 1800 643 242.
Toyota Motor Corporation sold more vehicles globally than any other automobile maker in 2013, for the second successive year, beating both General Motors and Volkswagen. Toyota made 9.98 million vehicles in 2013, compared to GM's 9.71 million and Volkswagen's 9.7 million.
Video – Toyota recall
Written by [google_authorship]