The Toyota-Tesla partnership in the electric car market is now officially over, after the Japanese car manufacturing giant sold its last Tesla shares. The Toyota-Tesla partnership has become a fierce rivalry – Toyota says it wants to go it alone on electric cars.
The sale of Toyota's last Tesla shares were announced on Saturday, but had occurred at the end of last year, which "Highlights how Toyota's strategic partnership with Tesla has fizzled out," wrote Robin Harding in a Financial Times article titled 'Toyota sells stake in Tesla as partnership dies'.
Toyota Motor Corporation, the second-largest automotive manufacturer behind the German Volkswagen Group in 2016, is preparing to launch its own 100% electric car. The company is also ramping up investment in several future technologies, including self-driving vehicles and hydrogen fuel cells.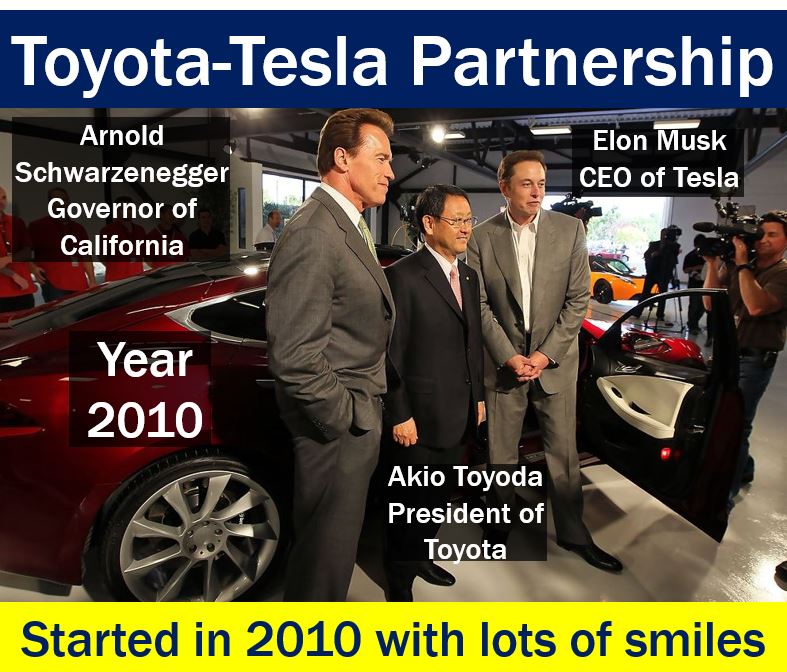 The Toyota-Tesla partnership began in 2010 when the Japanese auto giant purchased 3% of Tesla, which was then Elon Musk's startup company. Both businesses were full of hope, and convinced they were commercially compatible. By 2014 they both discovered that this was not the case.
Toyota has recently invested in a startup company – Cartivator Resource Management – that is developing a flying car. The near-term aim is to have the new flying car light the Olympic torch during the inauguration of the Tokyo 2020 Games.
'Periodic review' kills Toyota-Tesla partnership
Toyota said its decision to sell all its shares in Tesla followed a 'periodic review' of its investment portfolio.
Seven years ago, Toyota purchased approximately three percent of Tesla for $50 million. In that same deal, its assembly plant at Fremont in California was sold to Elon Musk's startup company.
---
---
Tesla had only manufactured a small number of upmarket electric sports cars. Two years later, in 2012, it launched its Model S, which sold well.
When Toyota initially invested in Tesla, its senior management had hoped that some of Tesla's startup management culture would rub off on its own staff.
However, Tesla's risk-taking, Silicon Valley approach clashed with Toyota's cautious way of doing business, and the partnership soon fizzled out.
---
---
In 2014, Toyota stopped selling an electric SUV – the Rav4 EV – that the two companies had jointly developed, and sold part of its shareholding in Tesla that year.
When Tesla opened a store in Nagoya, Japan, where Toyota's headquarters are, it became clear to all concerned that in the electric car market the Tesla-Toyota partnership was turning into a rivalry.
Toyota has invested in both electric cars and hydrogen fuel cells, suggesting that the company is not 100% convinced that electric cars have a solid future. Tesla's Mr. Musk once described investing in hydrogen fuel cells as 'incredibly dumb'.
Video – Toyota-Tesla partnership over
This UFX video of the previous week's most interesting business/economic news includes details of Toyota's sale of its remaining stake in Tesla.