TransCanada Corporation said on Thursday it is seeking approval for the Energy East Pipeline Project, a 1.1 million barrel-per-day pipeline, with Canada's National Energy Board.
If approved the $12 billion, 4,600 km long pipeline would be one of the largest infrastructure projects ever constructed in Canada.
The project would transport Alberta crude through pipe that already exists in the ground for two-thirds of the distance, with a new pipeline being constructed through Quebec and New Brunswick.
The crude that would arrive at terminals in New Brunswick and Quebec could then be exported to India, Europe and other parts of the world. Refineries in Eastern Canada would also have access to cheaper domestic crude, rather than depending on more expensive imports.
Local communities and environmental groups are concerned about potential leaks which could damage water supplies, as well as some other risks.
The Calgary-based energy company said the application is the result of over eighteen months of engineering work, public consultations and environmental studies, making it one of TransCanada's most extensive regulatory applications ever.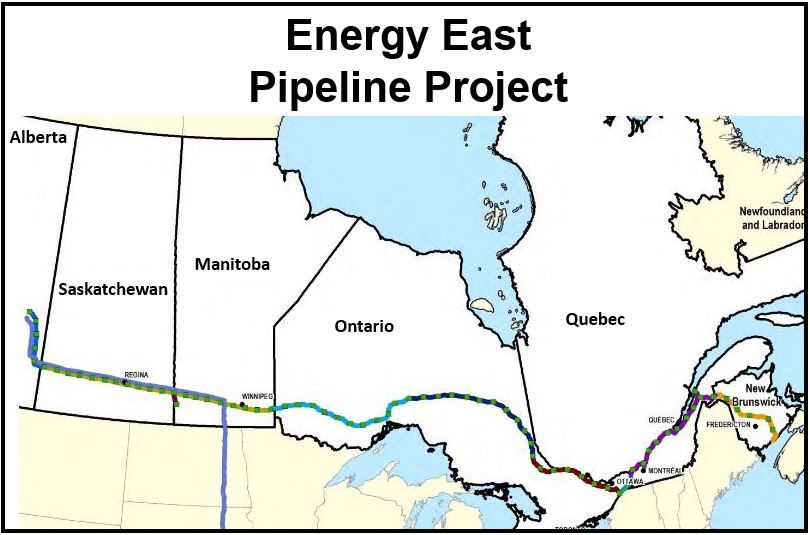 (Source:  "Energy East Pipeline Project," TransCanada Corporation)
TransCanada claims the project will improve the country's energy security and will provide employment for thousands of Canadians as well as billions of dollars for the economy.
TransCanada's president and chief executive officer, Russ Girling, says the project will connect the vast energy resources in the west of the country to eastern Canadian markets.
Mr. Girling added:
"This is a project that will help support thousands of jobs across the country and generate billions of dollars in government tax revenues over both the short- and long-term."
"It will provide the safest and most efficient access to markets for Canada's growing crude oil production, ensuring we realize the greatest value for our natural resources. Energy East will also eliminate the need for Eastern Canada to import most of the 700,000 barrels it consumes every day."
The National Energy Board has 15 months to study the project review. It then has to make a recommendation to Prime Minister Stephen Harper's cabinet.
Canada's second-largest pipeline company says it has also filed environmental assessment studies with Quebec authorities for the marine terminal and storage facility it wants to build in Cacouna.