TransCanada Corporation announced on Monday that it has bought its eighth Ontario solar facility, the newly built Liskeard 1 facility, from Canadian Solar Solutions Inc. The plant, located in the New Liskeard region of northeastern Ontario, has a generating capacity of 10 megawatts.
This latest acquisition forms part of a larger purchase deal with Canadian Solar the two companies signed in 2011. So far, TransCanada has invested more than $450 million in its Ontario solar program.
According to Canadian Solar, one of the world's largest solar power companies, the Liskeard 1 project uses its MaxPower CS6X-P modules and is valued at about C$60 million (US$52 million).
The solar power plant has already started supplying electricity to the Ontario Power Authority under a 20-year power purchase deal.
Russ Girling, president and chief executive officer of TransCanada, said:
"We are pleased to have completed the purchase of this additional solar facility in Ontario. This acquisition continues to show our commitment to maintaining a diverse portfolio of generating capacity in Ontario which includes 958 MW of gas fired generation and our combined interest of about 40 per cent in the 6,200 MW Bruce nuclear facility."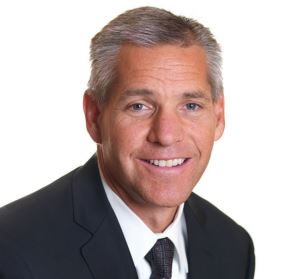 Russ Girling has been President and CEO of TransCanada since July 1, 2010. (Photo: TransCanada.)
Mr. Girling added that TransCanada is the biggest private power producer in Ontario.
Dr. Shawn Qu, Chairman and Chief Executive Officer of Canadian Solar, said:
"We are happy to complete the sale of another solar power plant to TransCanada, one of North America's most successful energy infrastructure companies. This transaction is a testament to Canadian Solar's expertise in developing, constructing, and energizing utility-scale solar power plants, and it demonstrates our leadership position in solar project development on a global scale."
Dr. Qu has been Chairman, President and CEO of Canadian Solar since founding the company in 2001.
The Carbon Disclosure Project recently improved TransCanada's ranking for its disclosure of carbon emissions and mitigation of the business risks of climate change.
To date, TransCanada has invested more than $5 billion in emission-free energy sources, including 13 hydro power facilities in New Hampshire, Vermont and Massachusetts, as well as the biggest wind farm in New England. It is currently involved in Quebec's largest-ever wind farm development.