Six years of regulatory delays have pushed up the estimated costs of the Keystone XL pipeline project by nearly 100%, Shawn Howard a TransCanada Corp. spokesman said on Friday, confirming what Russ Girling, the company's CEO had said during an interview on Thursday in Washington D.C.
TransCanada's previous $5.4 billion estimate has skyrocketed, Mr. Howard commented. Mr. Girling had said the new estimated costs would be nearing $10 billion.
The controversial Keystone XL pipeline project has been mired in protests from environmentalist and mountains of red tape. The company is now in its sixth year, awaiting a US permit. The project aims to carry 830,000 barrels per day of Canadian crude along the 1,170 mile pipeline from the oil sands of Alberta to the Gulf Coast.
According to Mr. Howard, costs have shot up because of:
new requirements to build and lay down the pipeline.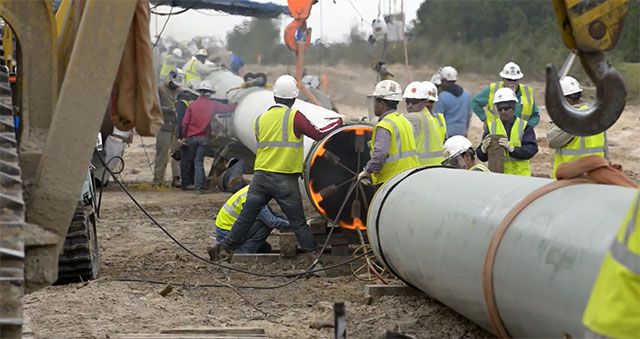 The first Keystone XL pipeline was approved in just 23 months (Photo: TransCanada).
On its Keystone XL Pipeline blog, TransCanada described this week as yet another sad milestone in the Keystone XL Pipeline saga. Six years on, and a presidential permit is still elusive.
TransCanada wrote:
"Over the past six years we have seen a great deal of evidence demonstrating why Keystone XL should be built and why it is in the national interest of the United States. The U.S. State Department's Final Supplemental Environmental Impact Statement (FSEIS) and four previous environmental impact statements all reached a similar conclusion:"
"Keystone XL will be the safest pipeline ever constructed on American soil, would have minimal impact on the environment, will create thousands of much-needed jobs and will bolster U.S. energy security. The continued delay in approving the Keystone XL Pipeline is keeping good, high-paying jobs away from American men and women as well as sending American dollars overseas to hostile regimes that do not share many of North America's interests and values."