TSX, the Toronto Stock Exchange, recorded its largest weekly gain in three years on Friday, after rising for four successive days. The oil price recovery helped push up energy stocks, which had recently taken a beating.
The S&P/TSX composite index, which accounts for over 70% of market capitalization for all TSX-registered Canadian-based companies, closed up 121.51 points (0.85%) to 14,468.26 on Friday.
The Canadian dollar, known is Canada as the "loonie", fell 0.08 to 86.15 US cents.
Friday's main company story of the day was BlackBerry's disappointing third quarter revenue, which fell short of analysts' expectations, even though it managed to post a profit.
The energy sector was 15% up this week, but is still 18% down compared to the same week in December 2013.
Energy stocks did well during the first half of 2014, until oil prices peaked in June. Then everything went downhill, both oil prices and energy shares.
Since June, crude prices have plummeted by nearly 50%. By the middle of this week, the freefall appeared to have reached its end, with oil in New York rising $2.41 to $56.52 per barrel.
Whether the halt in the nearly six-month oil price slide will hold is anybody's guess. The IEA reduced its estimate for demand growth in 2015, OPEC and other major oil producers said they would not cut production, and demand from China is likely to remain weak for the coming year.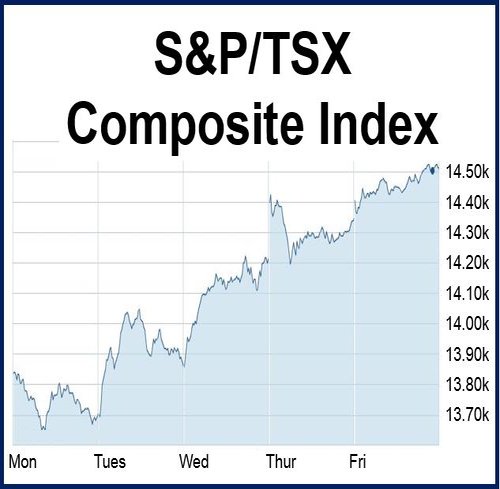 The Toronto Stock Exchange had a super week. (Chart source: Yahoo Finance)
Most bets are on a continued slide, but nobody really knows. Qatar's oil minister said earlier this month that even if prices fall to $40 per barrel, OPEC will stay put and wait this out.
US stocks also did well as sentiment lifted following comments from the Federal Reserve this week that it was in no hurry to raise interest rates.
The Dow Jones industrials climbed 26.65 to 17,804.8, the S&P 500 index rose marginally by 9.42 points to 2,070.65, and the Nasdaq increased 16.89 points to 4,765.38.
UK shares also had their best week for three years, mainly due to the Fed's comments on interest rates and a halt in the oil price decline. The FTSE 100 climbed 79.27 points (1.2%) to 6,545 on Friday, which was 3.9% higher than on the previous Friday's close.
Germany's DAX gained 2% on the week and the CAC 40 in France was 3.2% up.