The Toronto Stock Exchange (TSX) hit a one-month high on Friday, mainly driven by a rebound among natural resource producers who responded to favorable commodity prices. With unemployment reaching a 6-year low, business sentiment improved considerably.
The Loonie gained nearly three-quarters of a US cent on Friday. It climbed by 0.72 of a cent to 88.24 cents following the release of Canadian jobs data.
A total of 43,000 new jobs were created in October, which was much higher than economists' forecasts averaging 5,000. In September the Canadian economy had created 74,000 jobs.
The TSX index has been gaining ground after the equity market suffered a serious fall in October. It has risen for four successive weeks. On Friday, the TSX index posted its third consecutive daily gain.
The selloff, which alarmed investors in October, is gradually fading from people's memory. Analysts say things are slowly coming back to normal in Canadian stock markets.
The S&P/TSX Composite index (GSPTSE), which consists of the share prices of the largest companies on the Toronto Stock Exchange, rose by 0.88% or 127.45 points on Friday to 14,690.83. Of the ten sectors that make up the GSPTSE six posted declines on the day.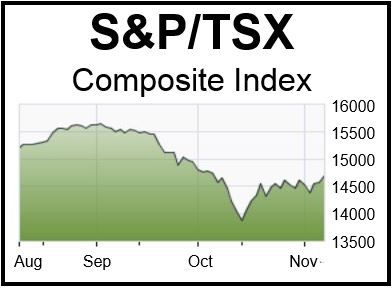 Shares in Canada's stock markets fell steeply in October, and have since recovered. (Source: TMX Money)
BlackBerry Ltd.'s shares increased by 1.6% on the news that Ontario Teachers' Pension Plan bought 7.79 million shares in the third quarter. The pension fund now owns 1.6% of BlackBerry.
Gold-mining companies saw their share value jump by 7.3% on the day, as bullion prices firmed. Goldcorp Inc.'s shares were 6.9% up at C$22.68, while Barrick Gold Corp's rose 6.3% to $13.79.
Energy company shares rose by 2.7%. Suncor Energy Inc. saw its shares increase by 1.8% to C$39.19, while those of Canadian Natural Resources Ltd. were 2.8% up at C$40.87.
The world's biggest publicly-traded uranium company Cameco Corp.'s shares jumped 11% to C$21.24. With Japan moving towards the restarting of its two nuclear reactors that closed down following the Fukushima disaster, uranium company shares are rising.
The New York Stock Exchange had a fairly uneventful Friday after the publication of just 215,000 new jobs in October, compared to forecasts of about 235,000. Even so, the Dow industrials and S&P 500 closed at record highs after rising for three successive weeks.
On Friday, the S&P 500 index rose 0.71 of a point to 2,031.92, Nasdaq fell 5.94 points to 4,632.53, while the Dow industrials was 19.46 up to 17,573.92.