TUI Travel Q3 profit increased by 21% to ₤92 million ($154 million) on a like-for-like basis. The largest tour operator in Europe by revenue said the strong figures were driven by a sharp increase in higher-margin vacations and a favorable currency exchange rate (strong pound).
The company, which is based in Crawley, England, is currently in talks with the German company TUI AG regarding a ₤4.4 billion ($7.39 billion) merger deal to create the world's number one leisure tourism business. TUI AG has a 55% stake in TUI Travel.
The two companies have a September 19 deadline to decide whether the merger goes ahead.
Online bookings & unique holidays growing
TUI Travel's CEO, Peter Long said that demand for the company's unique holidays, which now represent more than 70% of summer sales, continues growing strongly, as have online bookings.
Mr. Long added:
"Our One Mainstream structure, led by Johan Lundgren, continues to yield tangible benefits across a number of areas as we drive the organization to deliver a performance similar to that achieved by our UK business."
"We remain pleased with progress in summer trading, despite strong comparatives, and are achieving higher average selling prices across Mainstream overall."
"As the trading environment in the commodity space has become more competitive and airline capacity continues to increase, our flexible and resilient business model – focused on unique holidays and our relationship with the customer throughout their whole holiday experience – enables us to deliver sustainable, profitable growth and out-perform the market."

(Data source: TUI Travel PLC)
Forbidden from issuing Q3 guidance
For this fiscal year, which ends in September 2014, the company is aiming for between 7% to 10% growth. Merger and acquisition regulations prevent TUI Travel from re-affirming or revising guidance.
While explaining that the terms of the takeover code do not allow him to make forecasts for this year, Mr. Long added that "(there is) no business reason" for the lack of guidance in the Q3 statement.
Expanding long-haul flight offerings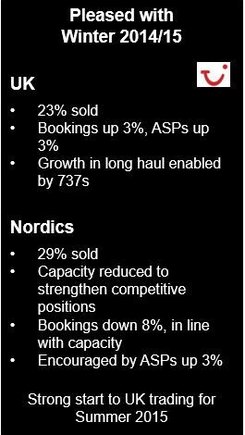 TUI Travel plans to widen its Caribbean offerings as a stronger British pound and more efficient Boeing 787 Dreamliner aircraft bolster profitability in the region.
Packages to Mexico and Jamaica will be expanded in its winter offering, where it is already the largest operator, ahead of Virgin Atlantic and British Airways. It also plans to increase its Dominican Republic operations.
In a conference call, Mr. Long said:
"We are very much focused on further growth in our long-haul destinations. We see huge growth opportunities on the back of the 787s, and the current exchange rates, i.e. the sterling-dollar, make those destinations particularly attractive."
Dreamliner 787 popular and fuel-efficient
The company introduced the more fuel-efficient Dreamliner 787 in 2013. Out of 15 on order, it already has 8 in its fleet within its Thomson unit based at Gatwick, Glasgow, Manchester, and East Midlands, all in the UK.
With its larger windows, more headroom and superior seat pitch, the Dreamliner has been a hit with passengers.
Mr. Long said.
"On long-haul flights of 10 hours or so, the in-flight experience is very important. It's a huge differentiator," he added.
Thomson Airways Dreamliner emergency landing
On August 5th, 2014, the pilot of a Thomson Airways 787 Dreamliner had to shut down one of the two engines about 90-minutes into a long-haul flight from the Dominican Republic to Manchester in England. After flying for four hours on just one engine, the plane made a safe emergency landing in the Azores.
Neither Boeing nor Thomson have explained what went wrong with the aircraft. Over the last two years there have been dozens of problems with Dreamliner defects.