The UK's annual inflation rate rose to 1.6% in December from 1.2% in November, according to the Office for National Statistics.
At 1.6%, the 12-month inflation rate rose to its highest level since July 2014.
A basket of goods and services that cost £100.00 in December 2015 would have cost £101.60 in December 2016.
CPI 12-month inflation rate for the last 10 years: December 2006 to December 2016: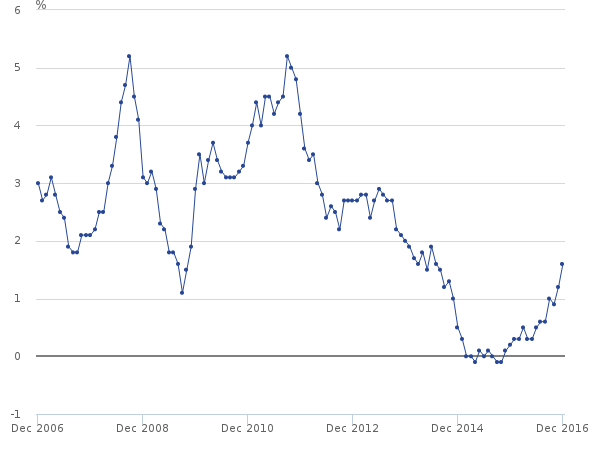 The reading was higher than what most analysts had forecast – of around 1.4%.
"The main contributors to the increase in the rate were rises in air fares and the price of food, along with prices for motor fuels, which fell by less than they did a year ago," the ONS said in consumer price inflation release.
Transport prices rose by 2.9% between November and December. Within transport, the largest upward effect came from an increase in air fares, with prices rising by 49% in December compared to the previous month.
Food and non-alcoholic beverages prices increased by 0.8% between November and December 2016 after falling by 0.2% the previous year.
Contributions to the change in the CPI 12-month rate: December 2016: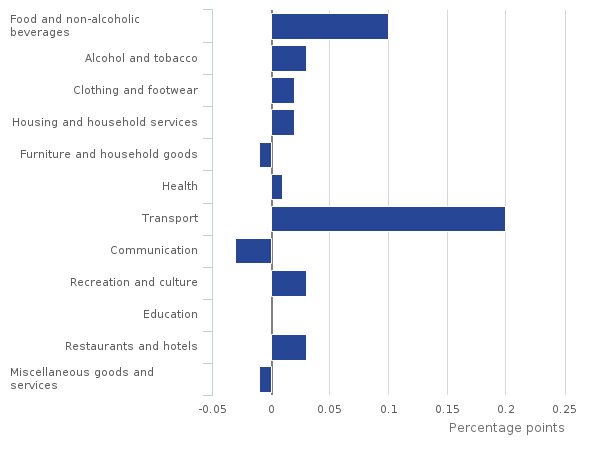 Between November and December the CPI rose by 0.5%, resulting in an increase in the CPI 12-month rate.
---
---
"This is the highest CPI has been for over two years, though the annual rate remains below the Bank of England's target and low by historical standards," said ONS head of inflation Mike Prestwood.
"Rising air fares and food prices, along with petrol prices falling less than last December, all helped to push up the rate of inflation.
"Rising raw material costs also continued to push up the prices of goods leaving factories."