Construction output growth in the UK in December was the lowest since July 2013, with the Markit/CIPS UK Construction Purchasing Managers' Index (PMI) coming in at 57.6, compared to 59.4 in November. Any reading above 50, however, indicates growing construction activity.
Even though expansion slowed for the month, December's reading was higher than the long-run series average of 54.5.
December's performance highlighted divergent trends in construction activity in the UK. House building was again the strongest performing sub-category, although expansion was at an 18-month low.
Commercial construction grew robustly but more slowly than in November. Civil engineering activity slowed down marginally in December, thus ending 17 successive months of growth.
Construction companies overall reported a solid increase in new business volumes in December, with strong demand for dwellings and a continued recovery in commercial property tenders. New-order growth, however, slowed for the sixth month running to its weakest in 18 months.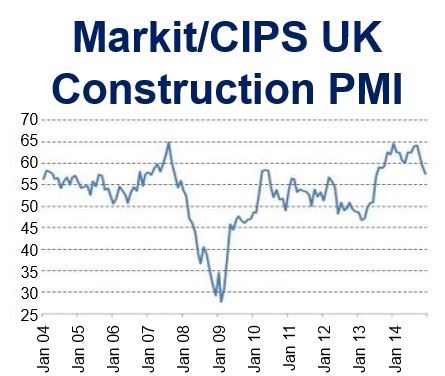 Source: "Markit/CIPS UK Construction PMI," Markit Economics.
While job creation continued in December, well above the survey's historical average, it was slightly down on November's figures. Several construction companies said the skills shortage has become more acute.
Fifty-two percent of respondents said they expect business activity to expand in 2015, while only 13% predict a reduction. Although more companies expect growth than contraction for 2015, the gap between the two in December was the lowest since August 2013.
Most respondents cited new-build housing as the key area of growth. The majority also commented that uncertainty related to May 2015's General Election weighed on confidence.
The decline in the price of oil contributed to the construction sector's moderation in cost inflation, which in December was at its lowest for seven months.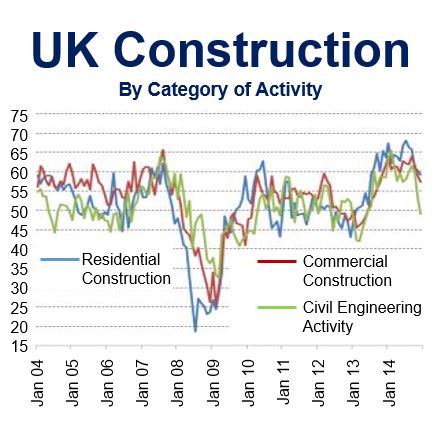 Source: "Markit/CIPS UK Construction PMI," Markit Economics.
Senior Economist at Markit and author of the Markit/CIPS Construction PMI, Tim Moore, said:
UK construction output growth retreated further in December, but another strong expansion of house building activity ensured that the sector continued to perform impressively overall. Indeed, over the course of 2014, UK construction firms recorded the strongest calendar year of residential building since the survey began in 1997."
"A sharp recovery in house building, as well as resurgent demand for commercial development projects, continued to boost staff recruitment and sub-contractor pay rates across the construction sector in December. While new business growth moderated to its lowest for a year-and-a-half in December, UK construction firms are still highly upbeat about their prospects for output growth in 2015."
"Four times as many construction companies (52%) anticipate an upturn in output over the year ahead as those that expect a reduction (13%). Positive sentiment was linked to strong pipelines of work-in-hand and favourable underlying business conditions. However, concerns related to supply chain pressures and deepening skill shortages were prevalent among survey respondents in December."