The UK construction industry unexpectedly entered contraction territory last month, with the construction purchasing managers' index falling to 46 for June from 51.2 in May.
Any reading under 50 indicates contraction.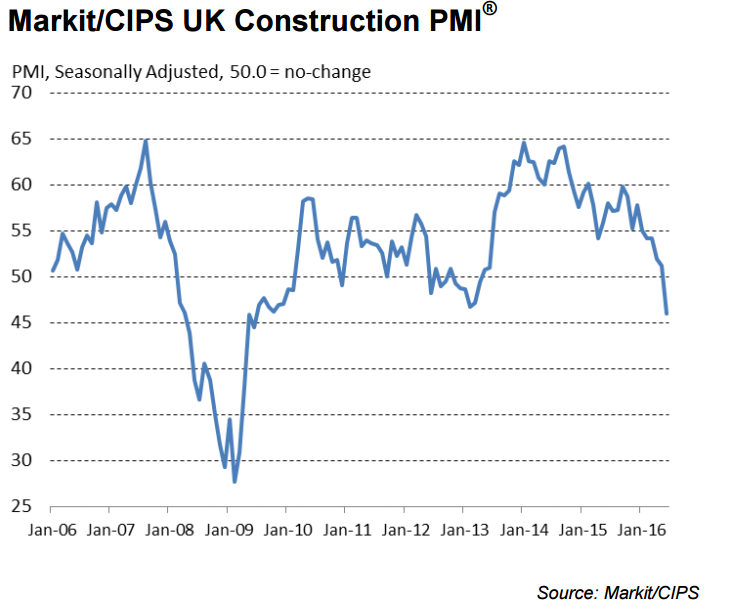 It was the industry's worst month in seven years, falling below the neutral 50.0 threshold for the first time since April 2013.
The drop in output levels was led by a steep decline in residential building and a reduction in commercial work.
According to Markit, the majority of responses were received before the Brexit result – around 80%.
Tim Moore, Senior Economist at Markit and author of the Markit/CIPS Construction PMI®, said:
"Widespread delays to investment decisions and housing market jitters saw the UK construction sector experience its worst month for seven years in June. Construction firms are at the sharp end of domestic economic uncertainty and jolts to investor sentiment, so trading conditions were always going to be challenging in the run-up to the EU referendum. However, the extent and speed of the downturn in the face of political and economic uncertainty is a clear warning flag for the wider post Brexit economic outlook.
"House building activity was worst affected by the uncertain business climate in June, very closely followed by commercial work. Civil engineering was the only stabilising influence, which underlines the need to shore up decision making on infrastructure projects and help offset any further loss of momentum across the wider construction sector.
"The vast majority of June's survey responses were received ahead of the EU referendum, so the worry is that the ensuing political turmoil will hit construction spending decisions for some time to come. As a result, the latest figures raise the likelihood that the Bank of England will inject additional stimulus this summer in an attempt to dampen the short-term impact of Brexit uncertainty on the real economy."
---
---
David Noble, Group Chief Executive Officer at the Chartered Institute of Procurement & Supply, commented on the results:
"Gloom and fragility descended on the sector with the steepest drop in new orders since December
2012. Caused by the continuing insecurities in both the global and UK economies and the hesitancy
shown by clients to commit to projects before the EU referendum, overall activity was at its frailest for seven years.
"The housing sub-sector took the most significant hit, with the biggest fall in activity since December 2012. Commercial building was a close second showing a similarly disappointing result, with a drop in activity not seen since February 2013. Delivery times, employment and crucial supplies were also impacted by the ongoing uncertainty.
"Though the majority of responses, around 80% were received before the Brexit result, the continuing ambiguity and indecision has flung the sector into unknown territory. Firms will likely look towards any remedies the Bank of England and the UK Government can offer if the situation worsens post-Brexit.
"The only glimmer of light through the brickwork is the rate of decline was not as sharp as that
experienced during the last recession. But, with business confidence at a three-year low, and
purchasing activity at its lowest level for six and a half years, this is likely to offer little comfort."