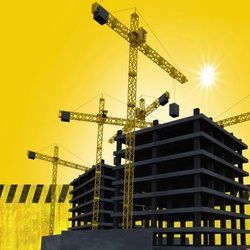 According to the Office for National Statistics (ONS), construction output in the UK fell 4.3% in August – the biggest drop since 2012.
In the three months to August – a less volatile measure – construction output dropped 0.8 percent.
According to an ONS official, the weak construction figures in August may have had something to do with the month's particularly wet weather.
Deficit in trade goods narrowed
The deficit in the UK's trade in goods narrowed in August, but was larger than expected. It narrowed to £11.1 billion compared with £12.2 billion in July.
The ONS said that the combined goods trade deficit for July and August is already double the shortfall of the previous quarter.
Between April and June the trade deficit narrowed sharply. However, economists don't expect this to last because of the slowdown in the global economy and strong sterling.
Has UK economic growth stalled?
Howard Archer, chief UK and European economist at forecasting consultancy IHS Global Insight, said that the data is a "double blow" for British growth prospects.
He commented: "Overall, the data reinforces our belief that GDP [gross domestic product] growth is likely be no better than 0.5 per cent quarter-on-quarter in the third quarter, and there is now a significant risk that it could have been weaker still.
"This would be down from 0.7 per cent in the second quarter. It would also be below the 0.6 per cent for the third quarter that the Bank of England estimated."
According to the BBC, David Kern, chief economist of the British Chambers of Commerce, said: "The large trade deficit remains a major national problem. Greater efforts are needed to support our exporters and to secure a long-term improvement in our trading position."