The UK economy expanded by only 0.4% in the first quarter of 2016 as manufacturing and construction output dropped amid uncertainty ahead of the referendum on European membership.
Growth between January and March fell from 0.6% in the fourth quarter of 2015, according to data published by the Office for National Statistics (ONS).
The slowdown was in line with economists' forecasts.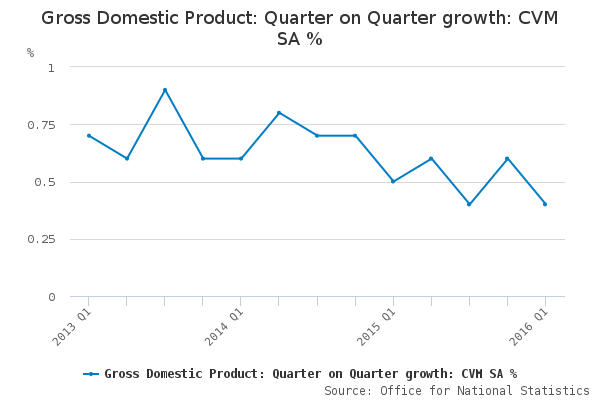 Construction output dropped 0.9% in the first quarter of the year, while industrial output fell 0.4% – the steepest drops since early 2013.
Growth was driven by 0.6% percent growth in the service sector – the biggest part of the economy.
ONS chief economist Joe Grice, said: "Services continue to underpin the economy but other sectors have shown falling output this quarter."
While the ONS said it had no evidence of a link existing between the slowdown and referendum uncertainty, business surveys suggest it is taking a toll on activity and investment.
Although the ONS didn't provide evidence of a link between referendum uncertainty and a slowdown in the economy, surveys have indicated that the uncertainty is hitting investment and activity.
---
---
Osborne says the threat of leaving the EU is weighing on the UK economy.
Chancellor George Osborne told the BBC the that it is "good news" that Britain continues to report growth, but added "there are warnings today that the threat of leaving the EU is weighing on our economy".
"Investments and building are being delayed, and another group of international experts, the OECD, confirms British families would be worse off if we leave the EU".
Economists forecast GDP growth to be limited to 0.3% in the second quarter of 2016.
Howard Archer, chief UK economist at consultancy IHS Global Insight, said: "We expect GDP growth to be limited to 0.3 per cent quarter-on-quarter in the second quarter, amid heightened uncertainty in the run-up to the June 23 referendum on EU membership.
"In particular, this is expected to weigh down on business investment and employment, and it may well also limit consumers' willingness to splash out on big-ticket items. Muted global growth will also hamper UK economic activity in the near term at least."