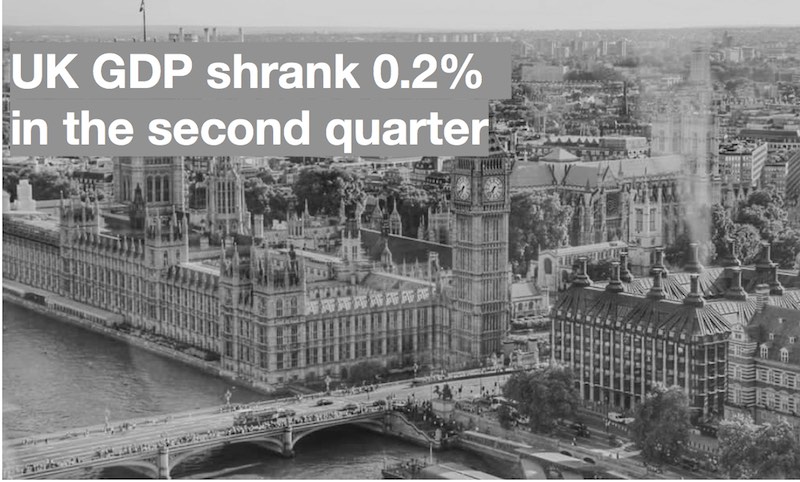 The UK economy contracted for the first time since 2012.
According to the Office for National Statistics (ONS), the UK economy shrank by 0.2% between April and June of 2019. In contrast, during the first quarter of the year, the economy expanded by 0.5%.
The pound dropped to as low as $1.2025 against the US dollar and €1.0736 against the euro after the figures were released.
The contraction comes amid a slowdown in the global economy and heightened fears of the UK abruptly leaving the European Union without a deal.
Analysts had forecast growth to be flat.
The decline was partly attributed to a decline in car production (as summer shutdowns for planned maintenance were brought forward to April in anticipation of a March Brexit date) and a slowdown in stockpiling.
According to the ONS, the economy suffered from a decline in manufacturing output and weakness in the construction sector.
Manufacturing dropped 2.3% quarter-on-quarter in the three months to June – the largest quarterly fall since Quarter 1 2009.
"The path of GDP and some of its components has been particularly volatile through the year so far, largely reflecting changes in timing of activity related to the UK's original planned exit date from the European Union in late-March," the ONS said.
"There is evidence that stockpiling was taking place in the first quarter of the year, which provided a boost to GDP, with the latest figures showing that these increased stock levels were partly run down in Quarter 2 2019.
"Furthermore, it was also reported that a number of car manufacturers had brought forward their annual shutdowns to April as part of contingency planning."
Services output growth slowed to 0.1% in the second quarter – the weakest quarterly figure in three years.
"The often-dominant service sector delivered virtually no growth at all," said Rob Kent Smith, head of national accounts at the Office for National Statistics.
Alpesh Paleja, lead economist at the Confederation of British Industry, said:
"It's clear from our business surveys that underlying momentum remains lukewarm, choked by a combination of slower global growth and Brexit uncertainty. As a result, business sentiment is dire.
"Securing a Brexit deal before the October 31 deadline is the first step to revving up the economy. The second is re-focusing attention on vital domestic priorities – such as pressing ahead with key infrastructure projects – to boost productivity and growth potential over the longer-term."