UK foreign direct investment in 2013 was the highest in Europe and the second highest in the world, after the United States, creating 66,390 jobs.
According to the new report issued by the government – "fDi Report" – UK foreign direct investment (FDI) stock increased by 8.3% last year, reaching £975 billion ($1,606 billion), a 13-year record.
Combined with almost 45,000 jobs safeguarded by further investments into the operations, UK foreign direct investment contributed more than 111,000 jobs to the economy of the UK in 2013.
Countries with the largest FDI stock in 2013 were as follows:
US: $4,935 billion (+25.8%),
UK: $1,606 billion (£975 billion) (+8.3%),
Hong Kong, China: $1,444 billion (+6.5%),
France: $1,081 billion (+5%),
China: $957 billion (+14.9%),
Germany: $852 billion (+8%),
Switzerland: $747 billion (+2%),
Netherlands: $670 billion (+7.3%),
Canada: $645 billion (+2.4%).
Energy and infrastructure projects increased
Foreign companies set up 1,773 projects, with the main investors coming from the US, Japan, France and Germany.
The UK has seen a considerable increase in the number and volume of energy and infrastructure projects, which increased by nearly one quarter last year.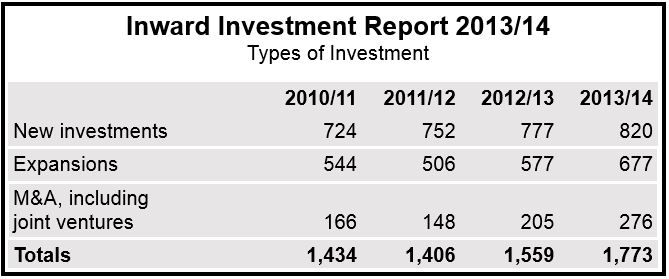 (Data source: Inward Investment Report 2013/14)
UK FDI from across the globe
Below is a breakdown of where the £975 billion overseas investment into the UK came from last year:
The Americas: £325 billion,
Australalisa & Oceania: £10 billion,
The Office for National Statistics informs that UK's inward FDI stock was spread across several industry sectors. Financial services took the highest concentration (45%), following by mining (9%), ICT (8%), and oil/pharma/chemicals (6%).
According to UKTI, Great Britain's economic outlook for 2014 is looking strong, with GDP estimated to grow by between 2.5% and 3%. The British Chambers of Commerce forecasts 3.1% GDP growth for this year.
The country's healthy economic performance and recovery prospects are expected to provide foreign investors with further confidence, the authors of the fDi Report believe.
(Data source: Inward Investment Report 2013/14)
Below are some examples of projects that foreign companies invested in within the UK in 2013:
Hinkley Point: the UK's first nuclear power project in two decades. When completed, it will generate 7% of the country's electricity requirements. At the peak of activity about 5,600 construction workers will be needed. EDF Energy, which belongs to French state-owned EDF SA, is expected to take its final investment decision on the £16 billion project as soon as regulatory clearance is complete.
Royal Albert Docks: The regeneration of the Docks in East London has received a £1 billion investment from China's Advanced Business Parks. A 35-acre derelict industrial site will be transformed into a business hub alongside Canary Wharf and The City. The project, which is forecast to provide a £6 billion boost to the country's economy, will employ 20,000 workers.
London Array: Canadian pension fund, La Caisse, has invested £644 million into the world's largest offshore wind farm. When completed, the project will provide clean energy for half-a-million people. The Canadian company's investment follows that of other major foreign investors, including Masdar, E.ON, and DONG Energy.
Nine Elms: The Chinese conglomerate, Wanda, has invested £790 million purchasing and redeveloping One Nine Elms into a mixed-use complex including 1,000 homes, offices and a major hotel. The Nine Elms site, which will include the new US Embassy, "is set to be the location of the world's largest urban regeneration project, creating 25,000 jobs," the authors said.
Airport City Manchester: The Beijing Construction Engineering Group (BCEG), together with the Greater Manchester Pension Fund and the Manchester Airports Group, has committed £800 million to the development of a new city around Manchester Airport, which will include new offices, manufacturing facilities, and a leisure complex. The project will employ 20,000 new workers.
Inward investment creates not only lots of jobs in the UK, but also well-paying ones.