UK fracking might grow significantly or stop in its tracks. Cuadrilla Resources, an oil and gas exploration company, will begin work on a well this week in Lancashire. The company, which has its headquarters in Bamber Bridge, Lancashire, is facing a last-minute legal challenge.
Cuadrilla's Lancashire work will be the first time that UK fracking has occurred since 2011.
Cuadrilla says that it will flare the gas from this well rather than capture it. In other words, it is not a 'commercial well.'
However, it could mark the beginning of a new UK fracking boom.
UK fracking good for the country
Last month, the company received hydraulic fracturing consent from the BEIS (Department of Business, Energy & Industrial Strategy).
In a press release last month, Cuadrilla CEO (Chief Executive Officer), Francis Egan, said regarding the consent:
"We are delighted to receive this consent. We are currently completing works on site in readiness to start hydraulically fracturing both wells in the next few weeks. The UK's need for a new and reliable source of natural gas, the cleanest fossil fuel, is underlined by a new report¹ suggesting the UK is going to have to rely on more coal to generate electricity."
"That would be a massive backwards step in reducing carbon emissions, as would continuing to import gas over long distances by pipe and ship. We are very proud to be the first operator in the UK to make significant headway in shale gas exploration."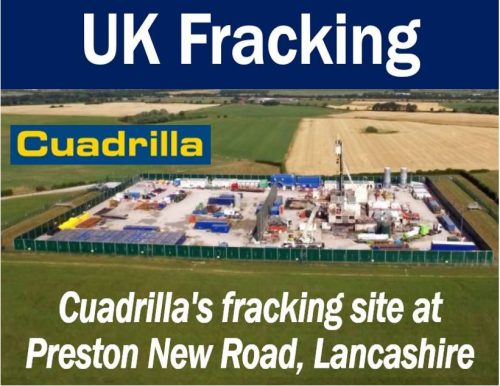 Cuadrilla – a leading UK fracking company
Cuadrilla, which was founded in 2007, is a leading UK fracking company. It has several locations in Lancashire.
AJ Lucas, an Australian specialist service provider to the energy, infrastructure, and mining sector, owns 47% of Cuadrilla. Riverstone Holding, a British private equity company owns 45%. Cuadrilla employees and former employees own the remaining 8%.
The company completed its first horizontal shale well in April 2018 through the Lower Bowland shale rock. The well is about 2,300 metres below the surface and extends for approximately 800 metres.
In July 2018, Cuadrilla completed its second gas well. It drilled through the Upper Bowland shale to a depth of about 2,100 metres below the surface.
UK fracking – Ineos
Ineos, with headquarters in London, is the largest company in the UK fracking sector. Even though it is larger than Cuadrilla, planning battles have left it much further behind.
Jim Ratcliffe, the UK's wealthiest person, runs Ineos.
Ineos is focussing its operations on three prospective shale gas sites in South Yorkshire and Derbyshire. It also holds licences for other parts of the UK.
Public opinion
According to an article by Adam Vaughan in The Guardian, more people are against UK fracking than for it. Thirty-two percent oppose while eighteen percent are in favour.
Mr. Vaughan wrote:
"The number opposing shale gas extraction have outweighed those in favour since 2015. That in part explains why Labour now has a policy of banning fracking, the Scottish government has a shale gas moratorium and the Welsh government has promised to block any applications."
"Some Conservative MPs have also begun to voice concerns over fracking, in particular, the government's plans to fast-track shale wells through the planning system."
What is fracking?
Fracking or hydraulic fracturing is the process of injecting liquid at very high pressure into underground rocks, boreholes, etc.
The pressure opens existing fissures so that a mixture of petroleum, natural gas, and brine can flow more quickly. In other words, it makes it possible for us to extract oil and gas.
Companies inject the liquid vertically or horizontally into the rock. In most cases, the liquid enters horizontally.
Geologists say that northern England has significant reserves of shale gas. Other parts of the country also have reserves.