In 2013, the UK GDP grew by 1.9%, its fastest growth since 2007, but economic output is still 1.3% short of its level in the first quarter of 2008.
The data comes from a publication by the Office for National Statistics (ONS).
However, growth slowed down during the last quarter of 2013 to 0.7%, compared to 0.8% in the third quarter.
In an interview with the BBC, Chancellor George Osborne said:
"There's plenty more to do but we're heading in the right direction. The economic recovery is broadly based with manufacturing growing more than other sectors, and that's evidence that the long-term economic plan is working. We've learnt our lesson and what you see today … is a rebalancing of the British economy."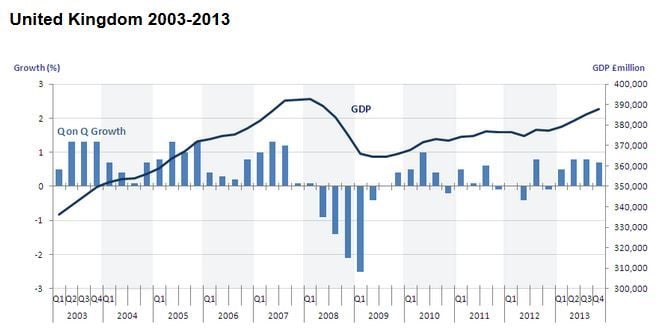 UK GDP (£millions) and quarter on quarter growth, Q4 2013 (Source: Office for National Statistics).
According to the Office for National Statistics:
GDP grew by 0.7% in Q4 2013 compared to Q3 2013.
In Q4 2013, output rose in 3 of the 4 main industrial groupings within the economy, compared with the previous quarter. Agriculture rose by 0.5%, production by 0.7%, and services by 0.8%.
Construction declined by 0.3% in Q4 2013.
From its peak in Q1 2008 to its trough in 2009, UK GDP shrank by 7.2%.
In the fourth quarter of 2013, GDP was still 1.3% below its Q1 2008 peak.
GDP in Q4 2013 was 2.8% higher than in Q4 2012.
A preliminary estimate reported GDP growth of 1.9% in 2013.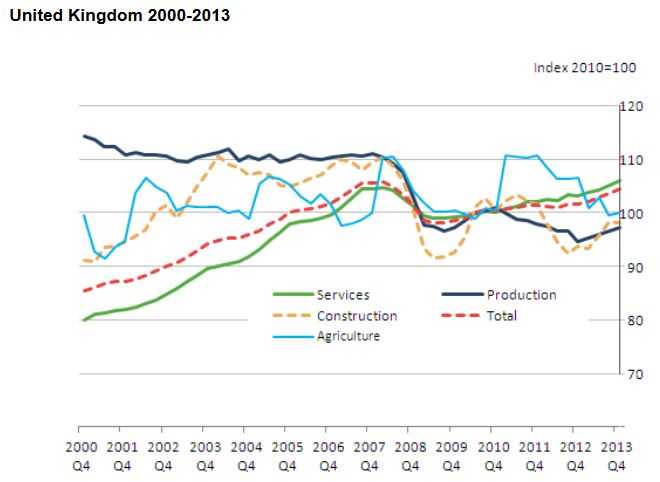 UK GDP and main components, Q4 2013 (Source: Office for National Statistics).
UK GDP – Comment by the British Chambers of Commerce
John Longworth, Director General of the British Chambers of Commerce, said the Q4 2013 growth figures confirm what we have all been hearing for some time. Businesses across the country are becoming ever more optimistic about their prospects.
For the first time in several years, many companies are accelerating their pace, while others report that they are about to do the same. British Chambers of Commerce surveys show business confidence levels at heights unseen for decades.
Longworth added:
"It is of course heartening that Britain is now amongst the fastest-growing advanced economies. But more must be done to shore up the foundations of this recovery if it is to be a lasting one. Unless we do much better on the three 'T's – training, transport infrastructure and trade support – our aspirations for investment at home and success around the globe cannot be achieved."
"We mustn't pat ourselves on the back for a recovery that is merely good, when what we need is a recovery that is truly great."
Chief Economist at the British Chambers of Commerce (BCC), David Kern, said that the UK is now out-performing most of its European rival economies. The BCC forecasts strong growth for the UK economy for 2014.
The BCC predicts 2.7% growth this year, something Kern believes is becoming increasingly achievable given the strength of the latest figures.
Kern said:
"The main challenge now is making sure growth continues and the recovery doesn't fizzle out. This means renewed efforts in key areas such as support for exporters and improved access to finance for growing firms. The Budget in March will give the Chancellor an opportunity to reconfirm his commitment to growth and to placing enterprise at the top of his priority list."