The UK grocery market share is moving away from the established giants to Aldi and Lidl. According to Kantar Worldpanel, 53% of British shoppers have purchased items at either supermarket chain during the last 12 weeks.
For the 12-week period ending August 17, 2014, Lidl and Aldi have achieved record market shares of 3.6% and 4.8% respectively.
Below is a list of the UK's major supermarket chains and their market shares during the 12-week period to August 17, 2014, compared to the 12-week period to August 18, 2013:
Tesco: declined from 30.2% to 28.8%,
Asda: increased from 17.1% to 17.2%,
Sainsbury's: fell from 16.5% to 16.4%,
Morrisons: fell from 11.3% to 11%,
The Cooperative: declined from 16.6% to 16.4%,
Waitrose: rose from 4.4% to 4.9%,
Aldi: increased from 3.7% to 4.8%,
Lidl: up from 3.1% to 3.6%.
Grocery price inflation falling
Grocery price inflation, at just 0.2%, has declined for the 11th month running. It is at its lowest level in eight years, or ever since the Kantar Worldpanel started this specific measure.
Grocery inflation has been driven by fierce pricing competition among the large supermarkets, and deflation in the price of vegetables, break and milk (staple items). "This naturally impacts on the overall growth of the grocery market, which has fallen to a 10 year record-low of 0.8%," Kantar wrote.
In spite of difficult market conditions, Farm Foods, Waitrose and Asda have managed to beat the market in terms of growth.
While Asda has pushed its "Price Lock" strategy to keep everyday essential item prices low, Waitrose has pushed its home delivery service as well as its offers for myWaitrose card users.
The "Big Four", except for Asda, are suffering declines in market share as well as sales.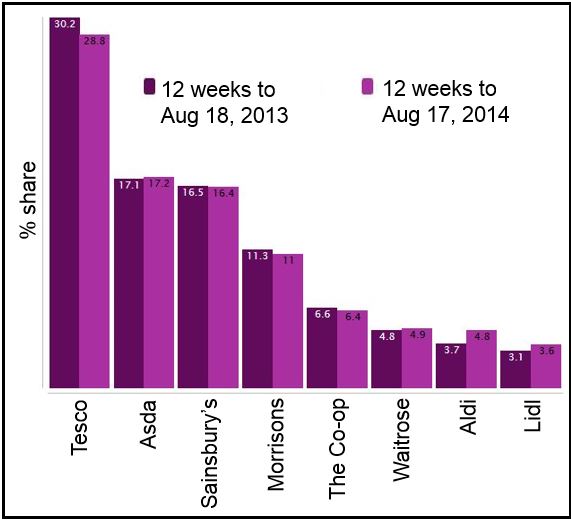 (Data source: Kantar UK Insights)
Huge task for Tesco's new CEO
Dave Lewis, Tesco's incoming CEO, has a huge challenge to revive the country's largest grocer, after data showed it has had the worst market growth in more than ten years.
With sales falling 4% year-on-year, the downhill momentum only seems to be gaining.
The 12-week period to August 17 showed a steeper sales decline than the 12-week period to July 20 (3.8%).
Lewis, a turnaround specialist, comes in after Philip Clarke was ditched in July.