Mark Carney, Governor of the Bank of England, warns that the UK housing market poses the greatest risk to the country's long-term recovery and financial stability. The UK housing market has deep structural problems which need to be addressed urgently, Mr. Carney said on Sky News' Murnaghan Show.
The UK's central bank is closely monitoring accelerating property prices and the growth in large-value mortgages, Carney said. The looming "debt overhang" has the potential to destabilize the economy, he warned. The UK economy grew strongly during the first quarter of 2014.
UK housing market needs new homes
The United Kingdom needs new house building, Carney added. Compared to Canada, his home country, the UK built 50% fewer homes annually and has twice Canada's population.
Approximately 133,000 new homes are built in the UK each year, compared to 220,00 in Canada. The issue around the UK housing market, Carney stressed, is that simply there are not enough houses being built.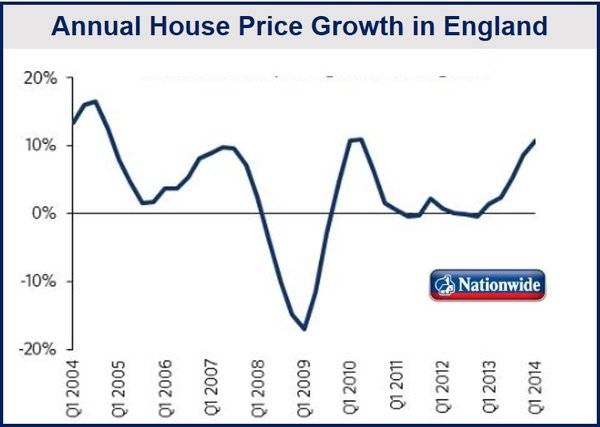 (Source: Nationwide Building Society)
When asked whether the UK needs more houses being built, Mr. Carney said:
"That would help us out. We're not going to build a single house at the Bank of England. We can't influence that. What we can influence is whether the banks are strong enough. Do they have enough capital against risk in the housing market?"
More large mortgages
He also said lending procedures could be monitored so that people are approved for mortgages they can afford and turned down for loans they cannot afford. Carney added "By reinforcing both of those we can reduce the risk that comes from a housing market that has deep, deep structural problems."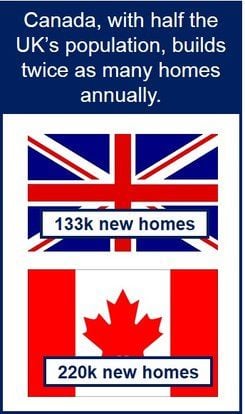 There are more large mortgages being approved again, Carney said with concern. A large mortgage is one that is worth more than four times the borrower's annual salary.
Mr. Carney said:
"We don't want to build up another big debt overhang that is going to hurt individuals and is very much going to slow the economy in the medium term. We'd be concerned if there was a rapid increase in high loan-to-value mortgages across the banks. We've seen that creeping up and it's something we're watching closely."
In the same Murnaghan Show, UK Prime Minister David Cameron said Mr. Carney was "absolutely right" and admitted the government must build more homes.
According to Mr. Cameron, house building is on the rise. "If you talk to any housing developer at the moment or builder they will tell you that the help to buy scheme the Government has put in place has been hugely helpful in bringing forward more development or house building. We are training apprentices in the building trade to make sure that we can deliver on these houses but we do need more, yes."
UK housing market momentum must not be ignored
On its website, the Bank of England quoted Sir Jon Cunliffe, Deputy Governor for Financial Stability, who said to the Worshipful Company of International Bankers earlier this month:
"It would be dangerous to ignore the momentum that has built up in the UK housing market since the spring of last year. The extent to which that will jeopardize financial stability depends on whether that pressure actually results in more transactions at higher prices, whether that in turn leads to an increase in household indebtedness and where that debt is concentrated."
The UK housing market could be in for a soft landing, Sir Jon explained, with house price growth slowing as affordability constraints take effect. However, there is a risk of a major overshoot in prices and accumulation in debt followed by a sharp correction with negative equity and debt overhang for many households.
On many occasions, Sir Jon pointed out, periods of a rapidly growing housing market have ended with a very hard landing.
UK house prices are rising by more than 10% per year, and not only in London but across the whole country. According to a Sky News analysis, there are twice as many £1 million properties today compared to 2008.
Video – Mr. Carney on the UK housing market