Social media website Pinterest announced it has raised another $200 million at a $5 billion valuation. Analysts predict Pinterest is set for a large initial public offering (IPO) or a pricey takeover by one of the Internet's supergiants.
Pinterest is a free social media website that people can use to upload, save, sort and manage pins (images), videos, gifs and other media content through pinboards. It acts as a personalized media platform; users' content and that of others can be browsed on the main page.
Users can use the "Pin It" button to save individual pins to one of their own boards. Put very simply: it is an online scrapbooking business.
There are many reasons for valuing a company, raising money being one of the most common.
A rapidly-growing startup
Pinterest has seen its value grow rapidly. Just seven months ago the company raised $225 million and was valued at $3.8 billion.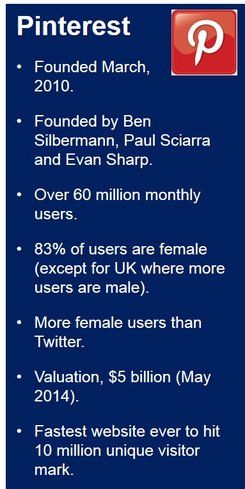 Since its launch in March 2010, Pinterest has raised $764 million. This round's $200 million came from Andreessen Horowitz, Ron Conway's SV Angel, Bessemer Venture Partners, First Mark Capital, Fidelity Investments, and Valiant Capital Partners, all existing investors.
Pinterest CEO and co-founder, Ben Silbermabn, said:
"This new investment gives us additional resources to realize our vision. Pinterest has a vision of solving discovery and helping everyone find things they'll love."
Pinterest revenue still very low
The company says it will use the cash injection to boost international growth, find new ways to monetize the business, and further develop Guided Search, its new visual search engine. Guided Search tries to guess what the user is looking for as he or she enters a search term by gathering and analyzing data about the images they have pinned or bookmarked on the site.
Silberman said that at its heart, Pinterest is about finding things you did not even know were there.
Pinterest has a large user-base, which stands at 60 million monthly users. As a social destination for US women, Pinterest has overtaken Twitter. Apparently, more than 80% of female users remain active on the site after four years.
However, its revenue is very low, despite having had more than 30 billion images pinned. Approximately 80% of its activity is through mobile phones.
The next giant search engine?
So, if the company is not making big bucks why are investors willing to bet another $200 million on its future and valuing it at $5 billion? Analysts say it is because the visually-driven social media site could well be the next Google in search.
Silberman and the management team are aiming to expand Pinterest's Promoted Pins business which was introduced this week, where firms can pay to place their images. The aim is to eventually have its own global advertising program for businesses of all sizes.
Video – Pinterest's "Guided Search"