The rate of UK manufacturing growth slowed down in December, ending the year on a disappointing note.
The UK Manufacturing PMI dropped to 51.9 in December from 52.5 in November. Any figure above 50 indicates expansion.
The reading was still higher than the average for 2015 though. The UK's manufacturing sector has now expanded for nearly three years straight – manufacturing production has increased for thirty-three consecutive months now.
Historical Overview: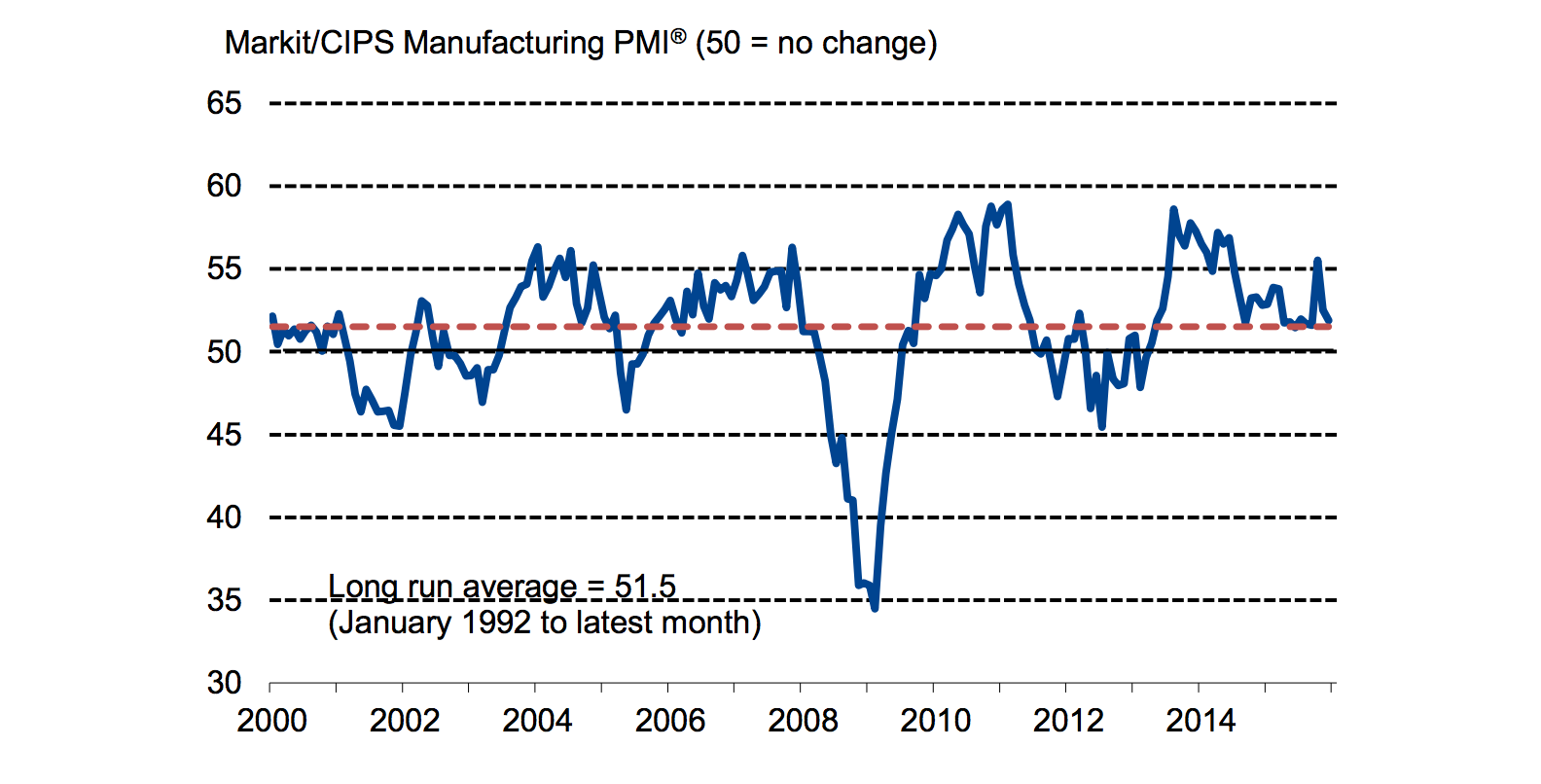 The rate of growth in December continued to fall from October's recent high back down towards stagnation.
New export orders climbed up for the fourth month straight month in December, however, the rate of increase fell back to its weakest since September. Growth of new export business was driven by robust demand from clients in continental Europe, the USA, China, Scandinavia, Turkey, Singapore and the UAE.
Rob Dobson, Senior Economist at survey compilers Markit:
"The UK manufacturing sector ended 2015 on a disappointing note, with its rate of growth slowing further from October's recent high back down towards the stagnation mark. This suggests that industry will make, at best, only a marginal positive contribution to broader economic growth in the final quarter of the year.
"Although this would be an improvement on the second and third quarters, it does also suggest that manufacturing output over 2015 as a whole may be below the level achieved in 2014.
"With the latest revisions to official data also suggesting that GDP growth earlier in the year was softer than previously thought, the emphasis has really shifted to other sectors of the economy if the rate of expansion for the year as a whole is to come in close to the OBR forecast as outlined in the Autumn Statement.
"The December manufacturing PMI data also suggests that cost pressures remain heavily on the downside and this is driving modest reductions in average factory gate selling prices. If this ongoing mix of subdued growth and weak price pressures remains prevalent elsewhere in the economy, the Bank of England will likely continue to push any potential rate increase later into 2016."
---
---
IHS Global Insight economist Howard Archer said the survey's performance was "pretty lacklustre, suggesting that 2016 is also likely to be challenging for manufacturers".
David Noble, Group Chief Executive Officer at the Chartered Institute of Procurement & Supply, said:
"A muted end to the year with more subdued levels of production and the weakest level of expansion reported for three months. Any rise in production was attributed to new orders from domestic but also export markets as the sector saw an increase in demand from the States, Singapore and China, as well as Europe. Stock levels were reduced for the tenth successive
month as firms made efforts to improve on work backlogs.
Staffing levels also improved, from last month's stagnant position, and this month more jobs were created across all sub-sectors and at both SMEs and larger companies. Falling input prices improved business margins as many firms seemed reluctant to pass on savings to clients to make up any perceived losses suffered earlier in the year."