The War and Peace debut that appeared on the BBC1  on Sunday has won rave reviews and was watched by 6.7 million viewers, easily beating ITV's Endeavour (4.4 million) and Channel 4's Deutschland 83 (1.2 million).
The new costume drama, based on Leo Tolstoy's novel, stars James Norton Prince Andrei Bolkonsky, Lily James Natasha Rostova, Paul Dano Pierre Bezukhov, and Jim Broadbent as Prince Bolkonsky. The director is Tom Harper.
War and Peace, which was first published in its entirety in 1869, is regarded as one of the central works of world literature. It delineates in graphic detail the events that surrounded the French invasion of Russia, and the impact of the Napoleonic era on Tsarist society, from the point of view of Russian aristocratic families.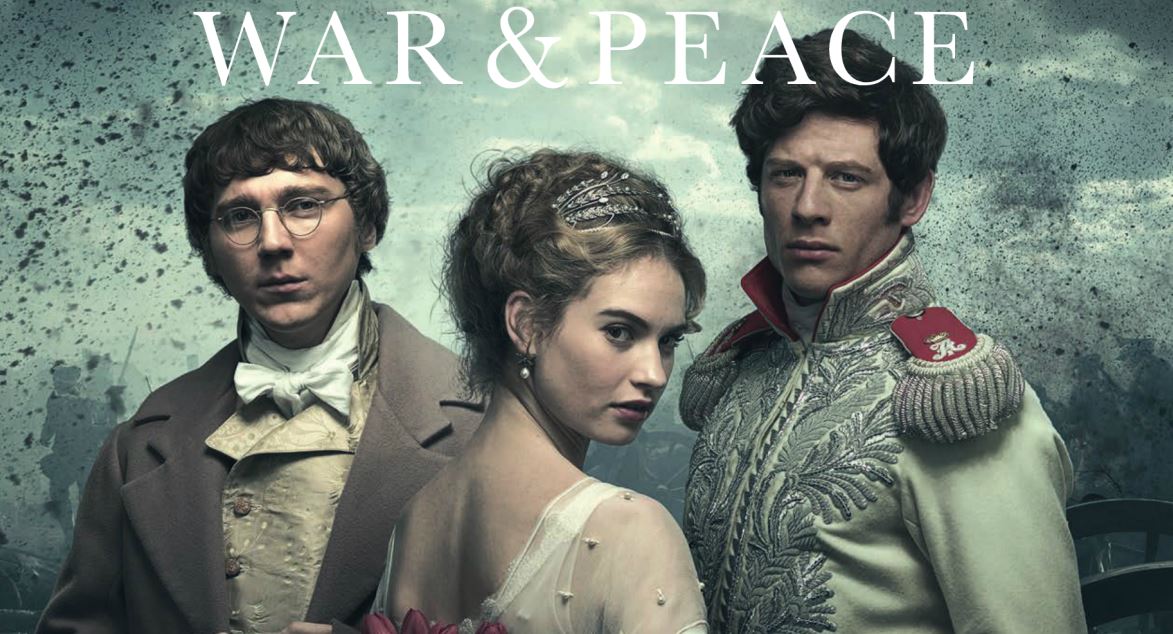 The first episode of War and Peace overall has been well accepted by viewers and critics.  A significant number of people felt it moved too fast. (Image: bbcwarandpeace.tumblr)
Author Count Lev Nikolayevich Tolstoy (1828-1910), referred to in English as Leo Tolstoy, a Russian writer, is regarded as one of the world's greatest authors of all time.
BBC adaptation by Andrew Davies
The BBC's costume drama adaptation was written by Welsh writer Andrew Davies, best known for his adaptions of Vanity Fair and Pride and Prejudice. He was made a BAFTA Fellow in 2002.
---
---
The first episode picked up 25% of the TV audience share, versus Endeavour's 19% and 6% for Deutschland 83.
Great reviews
Serena Davis, writing in the Daily Telegraph, who gave the first episode four stars, said:
"Judging by episode one he (Andrew Davies) has made an excellent job of this tale of the Russian aristocracy seeking its soul by way of the Napoleonic Wars. Character sketches were hastily but vividly drawn in the early minutes at the party of Anna Pavlovna (an excellent Gillian Anderson), an opening that mirrors that of the book."
"We met all members of the key households pretty quickly, conversations had thrust and lucidity, and there were some tremendous battle scenes at the end of the episode."
Several comments on social media websites criticized the first episode for rushing through the story too fast. (Image: twitter.com/Jason_Spacey)
Viv Groskup, writing in the Guardian, said:
"It's hard to imagine how the BBC could have done a better job. It makes Downton Abbey look like am dram. It's tonally perfect, striking exactly the right balance between drama and wit, action and emotion, passion and humour."
"In fact, perhaps that's the most surprising and exciting thing about this production: it's actually (and intentionally) funny.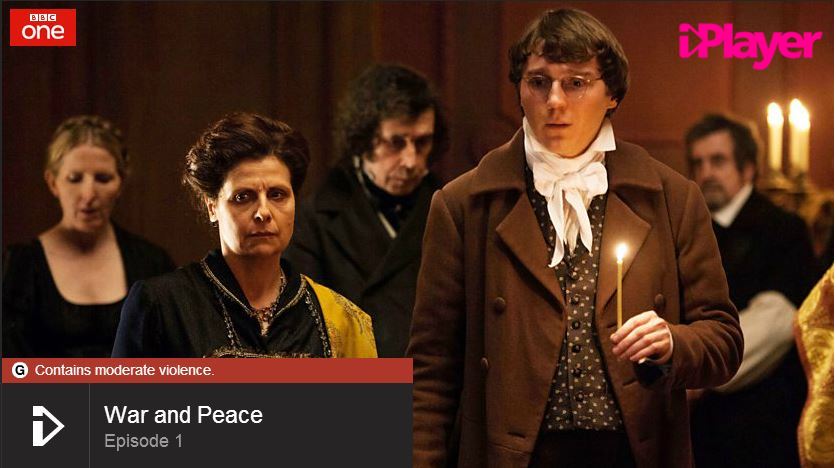 You can watch the first episode of War and Peace on BBC iPlayer.
War and Peace started to air on BBC 1 in the UK as six 60-minute episodes, starting on 3rd January, 2016. It will air on Lifetime, A&E and History Channel in the US as four 2-hour episodes, beginning on 18th January, 2016. It will also air in Australia, Israel, Sweden, Norway, Denmark, Greece, Estonia, Lithuania, the Netherlands, Luxembourg, and Belgium.
Danny Cohen announced the series in 2013 – he was commissioned along with BBC Drama controller Ben Stephenson. It has been produced by BBC Cymru Wales Drama, BBC Worldwide, The Weinstein Company, and Lookout Point.
The executive producers are Harvey Weinstein, Robert Walak, Simon Vaughan, Andrew Davies, George Ormond, and Faith Penhale.
Video – War and Peace Trailer
The story revolves around five aristocratic families, set during the reign of Alexander I, and centered on the love triangle between Natasha Rostova, Pierre Bezukhov, and Andrei Bolkonsky.