UK manufacturing outlook for May remained solid, with output forecast to increase strongly in the next few months, according to the latest CBI Industrial Trends Survey.
Output volumes in May continued growing at the same rate as in March and April, and the growth rate is expected to accelerate in the coming quarter.
The CBI (Confederation of British Industry) survey, involving 437 manufacturers, reports that total order books "remained well above the long-run average."
Manufacturing growth expected to accelerate
CBI Deputy Director-General Katja Hall, said:
"Overall, the manufacturing sector continues to perform well. Output growth is on an upward trend, with firms expecting an even stronger rise in the next three months. Inflationary pressures are under control, with firms now expecting only a slight rise in the selling prices of their goods."
"The recent rise in Sterling, coupled with a tepid recovery in the Eurozone could weigh on export demand. As the UK's economic recovery gains a firmer footing, we need to ramp up manufacturing exports to high-growth markets, driving job creation here in the UK."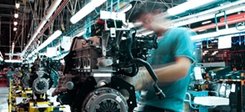 Below are some of the key findings in the survey:
36% of companies reported higher output volumes over the last three months.
21% of firms said output volume had fallen during the last three months. Giving a +15% positive balance for the third month running.
39% of companies forecast growth in the coming quarter.
7% of firms expect a decline in manufacturing volume in the coming quarter. Giving an overall +32% balance.
22% of respondents reported above-normal order books.
22% of firms reported below-normal order books. May's 0% balance was better than April's (minus) -1%, and much higher than the long-run average of (minus) -16%.
19% of companies reported above-normal export order books.
28% of firms said their export order books were below normal. A negative balance of (minus) -9%.
Output price expectations at +4% were lower than April's +9%.
16% of respondents said their current stocks of finished products were 'more than adequate'.
8% of firms reported less-than-adequate current stocks of finished goods.
Bank of England concerned about the UK housing market
The United Kingdom's housing market poses the greatest risk to the nation's long-term recovery and financial stability, Mark Carney, Governor of the Bank of England warned last week.
He said there are deep structural problems within the UK housing market, which need to be addressed urgently.
Carney added that the Bank of England is monitoring accelerating property prices closely, as well as the increase in large-value mortgages. There is a risk of a growing "debt overhang" which could destabilize the economy.
In the first quarter of 2014, GDP grew 0.8%, according to data published by the Office for National Statistics. Growth was largely driven by the service sector, which expanded 0.9%.
UK GDP has grown for the last five successive quarters, the longest stretch of growth since the global financial crisis.