UK manufacturing expanded more than expected in the end of 2016 as the country's trade deficit narrowed. 
Total production in the UK in December was estimated to have increased by 1.1% compared with the previous month, according to the Office for National Statistics (ONS).
Manufacturing provided all the growth, increasing by 2.1%.
Seasonally adjusted index of manufacturing, December 2006 to December 2016, UK: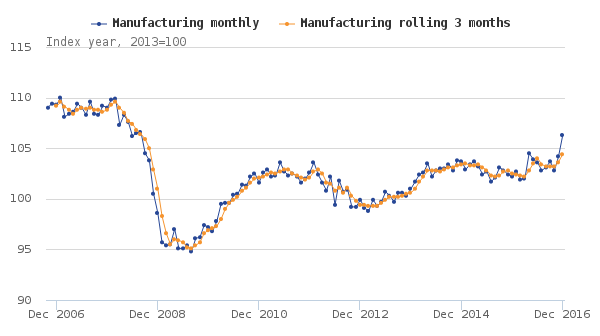 Figures are seasonally adjusted when people want to analyze a trend – plus cyclical deviations from a trend – of a time series independently of the seasonal variations that already exist.
The ONS noted that total output was boosted by increased output from the "volatile" pharmaceuticals sector, while mining and quarrying, including north sea oil (the second-biggest sector of the UK's industry) contracted by 1.1 per cent.
The 3 months-on-previous 3 months estimate of total production increased by 0.3% in December 2016.
Separate ONS data revealed that the UK's trade deficit shrunk in December.
The deficit in goods and services fell to £3.3 billion in December from £3.6 billion in November.
On a quarterly-basis the deficit dropped by £5.6 billion to £8.6 billion in the fourth quarter of 2016 after a sharp widening of the deficit in the previous quarter.
Exports quarterly contribution to growth by commodity, Quarter 4 (October to December) 2016: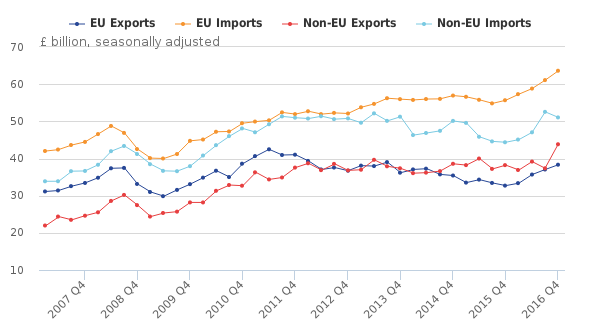 The deficit narrowed because of an increase in exports of goods to non-EU countries and a smaller increase in imports.
The ONS said in its report:
"Exports of goods to both EU and non-EU countries increased through most of 2016, but there was much higher quarter-on-quarter growth in exports to non-EU countries to Quarter 4 2016, following a fall in Quarter 3. Imports from EU and non-EU countries also increased through most of 2016. However, Quarter 4 2016 saw a decrease in imports from non-EU countries following a large increase in Quarter 3 2016."
---
---
Kate Davies, senior statistician at the ONS, commented on the data, stating that "while both exports and imports grew over 2016, there remains little evidence that the weaker pound has had an effect on the trade balance."
Industrial production and output proved resilient into the end of last year, but Barclays economists Andrzej Szczepaniak and Fabrice Montagne said in a note to clients that its "sustainability over 2017 is in question." They pointed to inflation pressures and uncertainty over negotiations with the EU which could affect overall business investment.