UK new car sales for 2013 were the best since 2007, according to the Society of Motor Manufacturers and Traders (SMMT).
Mike Hawes, SMMT Chief Executive, said:
"With its best year since a pre-recession 2007, the UK new car market has helped stimulate the country's economic recovery. the European market is only now showing signs of improvement, the UK has consistently outperformed the rest of Europe with 22 consecutive months of growth."
"The 10.8% increase in 2013 reflects the attractive financial offers available as well as increased demand for more technologically advanced new cars. We expect new car registrations to remain stable in 2014 as customers return to a more regular replacement cycle."
According to the SMMT:
2,264,737 new cars were registered in the United Kingdom in 2013.
In 2013, sales were 10.8% higher than in 2012.
2013 new car sales reached their highest level since 2007.
Sales rose 23.76% in December, 2013, the 22nd successive monthly rise of new car registrations.
600 more cars were sold each day in 2013 compared to 2012.
The UK is Europe's second largest new car market, after Germany.
The UK was the only European Union country to register growth in every month of 2013.
The market will stabilize in 2014, rising by approximately 1% compared to 2013.
Approximately three-quarters of all new car sales in the UK today involve some kind of financial package/deal.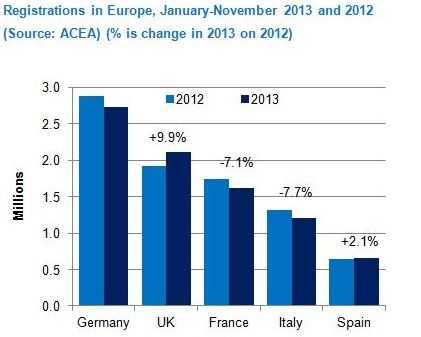 (Source: SMMT)
In the rest of Europe, however, sales of new cars have fallen by 2.8% in the 11 months up to the end of November 2013. Last year was the six consecutive year of falling car sales in continental Europe.
UK car sales dominated by Ford
According to the SMMT, Ford was the UK's top-selling brand in 2013, especially the Fiesta supermini and mid-sized Focus models. General Motors' Vauxhall Astra and Corsa models also did extremely well.
Approximately 1 in every 7 new cars sold in the UK last year was built in the UK. Although the United Kingdom is a major car producer, most of its vehicles are exported.
---
Market Business News reported last month that US November auto sales exceeded all expectations with the Chrysler Group reporting a 16% rise in the sale of new cars and trucks, General Motors 14%, Ford 7.1% and Toyota 5.9%.
---