New car sales in the UK dropped by 9.3% in September compared to the same month last year, according to the Society of Motor Manufacturers and Traders (SMMT).
The SMMT said that there were 426,170 new car registrations last month.
Total car sales have reached 2,066,411 this year, down 3.9% compared to the same period last year.
Demand from business, fleet and private buyers all dropped in September, down -5.2%, -10.1% and -8.8% respectively.
A breakdown of new car registrations in September and year-to-date: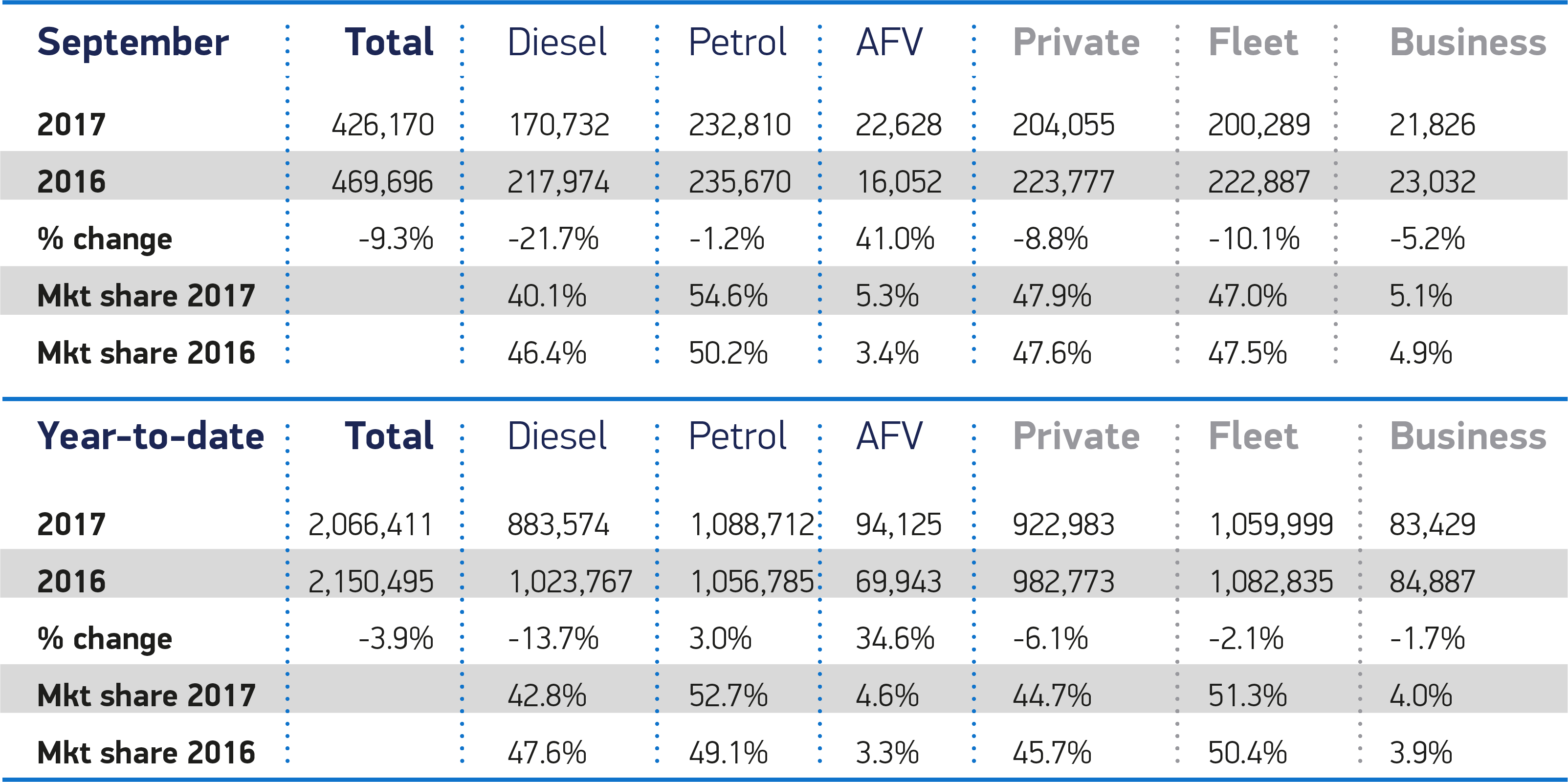 There was a decline in new registrations across all body types, except dual-purpose, which increased 2.4%.
The decline in sales reflects lower consumer confidence due to economic and political uncertainty and confusion over air quality plans, the SMMT said.
September is typically a strong month for new car sales as it's when there is a change in the licence plate series indicating how old vehicles are.
The September market last declined six years ago in 2011, by 0.8%.
Mike Hawes, SMMT Chief Executive, said:
"September is always a barometer of the health of the UK new car market so this decline will cause considerable concern.
"Business and political uncertainty is reducing buyer confidence, with consumers and businesses more likely to delay big ticket purchases.
"The confusion surrounding air quality plans has not helped, but consumers should be reassured that all the new diesel and petrol models on the market will not face any bans or additional charges.
"Manufacturers' scrappage schemes are proving popular and such schemes are to be encouraged given fleet renewal is the best way to address environmental issues in our towns and cities."
---
There was a 41.0% increase in demand for alternatively fuelled vehicles (AFVs) in September however. With demand for AFVs up 34.6% year-to-date.
Chart of the best selling cars in the UK in September and year-to-date: