Britain's productivity continued to weaken in the second quarter of 2017, according to the Office for National Statistics (ONS) said.
There was a 0.1% decline in hourly output among British workers in the second quarter of the year, following a decline of 0.5% in the first three months of the year, leaving productivity 0.3% lower than it had been a year ago.
The ONS report revealed that labour productivity in the second quarter grew in services but fell in the manufacturing industries (by +0.2% and -1.3% respectively).
"A fall of 0.1% contrasts with a long period of average productivity growth prior to the economic downturn, and represents a continuation of the UK's "productivity puzzle"," the ONS said.
Output per hour and output per worker in the UK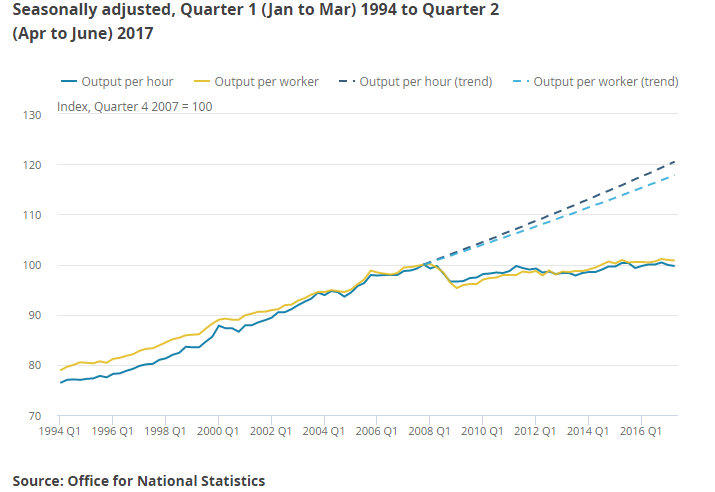 Economists believe that one of the reasons for poor labour productivity performance has been low wage growth fueling the rate at which companies are employing and keeping hold of workers – particularly in industries that face labour shortages or those relying on EU migrants.
Other explanations that have been suggested include low levels of investment and the impact of the financial crisis on bank's willingness to lend to new businesses.
Commenting on August's 'flash' estimate, which was in line with the latest official figure, Howard Archer, chief economic adviser to the EY Item Club, said:
"The UK's 'productivity puzzle' is a source of much debate and analysis. Part of the UK's recent poor labour productivity performance has been that low wage growth has increased the attractiveness of employment for companies. This was clearly a major factor causing employment to hold up well during the downturn and since then has picked up markedly.
"It may currently be the case that employment is being lifted by a number of UK companies being keen to take on workers or at least hold on to them given concerns over labour shortages in some sectors and reports of fewer EU workers coming to the UK since last June's Brexit vote."
He added:
"There is a risk that prolonged uncertainty may end up weighing down markedly on business investment and damage productivity.
"Prolonged difficult Brexit negotiations could increase this risk."