The UK is now the world's fifth largest economy, pushing France into sixth place, according to a new analysis by the Centre for Economics and Business Research (CEBR), which showed that the Britain's Great Recession decline was not as severe as previously thought.
The UK's economic figures were also boosted when sex and drugs were included into GDP (gross domestic product) data. According to official estimates, in 2013 the UK economy saw about £5.7 billion added to it from prostitution alone, while illicit drugs added a further £6.62 billion.
The new way of estimating a country's GDP helped the UK take the 5th spot in the global league table by the narrowest of margins, the CEBR reported.
For 2014, UK GDP is expected to come in at $2.828 trillion (£1.816 trillion), versus France's $2.827 trillion.
As Britain's economy is growing considerably faster than France's, CEBR economists expect the UK to pull further ahead rapidly in the years to come, even though recent GDP data showed the economy has not been growing as rapidly as previously estimated.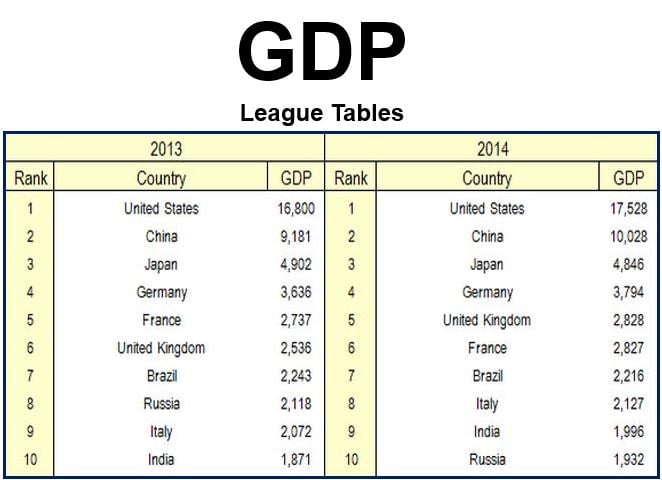 Source: "World Economic League Table 2015 Highlights," CEBR.
The UK's nominal GDP is forecast to expand to $2.92 trillion in 2019, versus $2.67 trillion in France.
France, which posted record unemployment levels this week, is slipping into a deflation-recession spiral along with the rest of the Eurozone. Japan has been afflicted by a similar economic environment that has afflicted the country for two decades.
Britain, which is in the European Union but not in the Eurozone, is growing strongly and is set to become Europe's largest economy by 2030, overtaking Germany.
The CEBR predicts that China will become the world's biggest economy in 2025, pushing the United States into second place.
CEBR forecasts that India will overtake the UK in 2018, becoming the Commonwealth's largest economy, and the world's third biggest by 2024.
By 2030, South Korea is forecast to become the 8th largest economy, just behind Germany.
Russia's economic mess will push it from being the 8th largest economy in 2013 to the 10th in 2014.