Labour productivity in the UK as measured by output per hour improved by 0.6% in Q3 2014 compared to Q2 2014, and was 0.3% up on the third quarter of last year, the Office for National Statistics informed on Wednesday.
Labour productivity looks at the rate of production of each worker. For example, in a factory that makes tables one might calculate how many tables each employee produces per hour or per day.
The Bank of England will be encouraged by the latest data as it holds interest rates at record lows. The UK's central bank forecasts that productivity will gradually recover as the economic rebound builds, thus easing potential inflation pressures.
---
---
However, productivity is 2% below its level before the financial crisis in 2008.
Since the start of the economic recovery, as employment outpaced economic growth, productivity in the UK has been weak.
Output per hour improved in all the main industrial groupings in Q3 2014, by 0.6% in the service industries and 0.5% in the production industries.
Across the whole of the UK economy, unit labour costs rose by 0.5% in the third quarter, reflecting a steep increase in labour costs per hour worked.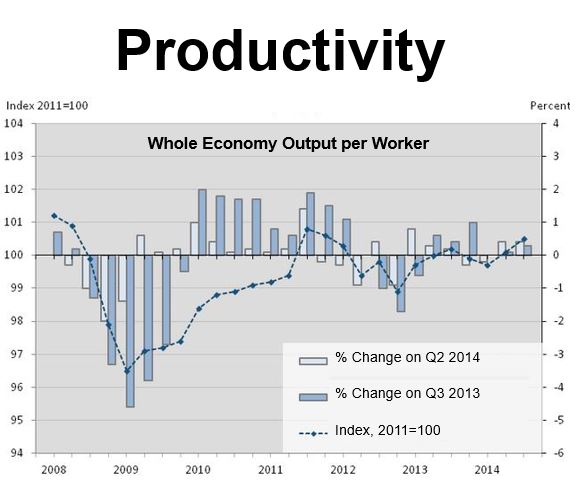 Source: "Labour Productivity, Q3 2014," Office for National Statistics.
The Bank of England says it does not expect to consider raising interest rates until it clearly sees evidence of faster pay increases.
The Office for National Statistics informed on Tuesday that business investment declined by 1.4% in Q3 2014 compared to Q2 2014, and was 5.2% higher than in Q3 2013. Analysts had expected a better performance.
On Tuesday, the ONS also informed that UK GDP had grown by 2.6%, and not the 3% in its original estimate. As soon as the news became public the pound sterling started to slide.
UK income from foreign investment fell in the third quarter, which was made worse by money leaving the country and going to foreign investors. The current account deficit widened to £27 billion from £24.3 billion in the third quarter.