The UK's September trade deficit grew more than analysts had expected, with weak export growth to the EU and higher oil imports, the Office for National Statistics reported on Friday.
Compared to August, oil imports increased by 27.6% in September.
The trade deficit widened to £9.821 billion compared to £8.950 billion in August. UK economists had predicted on average a deficit of £9.4 billion in September.
Exports in September increased by 4.2% while imports grew by 5.8% from August.
In the third quarter of 2014, the UK's trade deficit in goods widened to £29.049 billiob, compared to £28.107 billion in the second quarter.
The UK's overall deficit including services in September was £2.838 billion, which was more than one billion pounds higher than August's £1.768 billion.
For the whole of the third quarter, the overall deficit including services increased to £7.549 billion, versus the second quarter's £6.461 billion.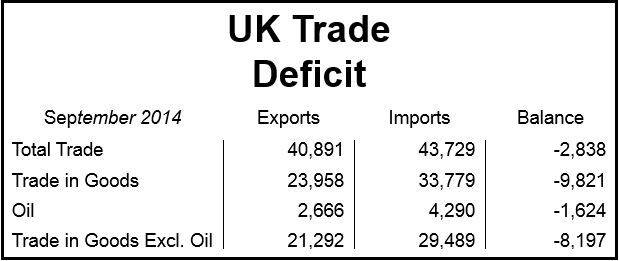 (Source: Office for National Statistics)
Since the middle of last year, the UK economy has depended on domestic demand to drive the recovery. The Government had hoped that greater exports in 2014 would help sustain the rebound. This has been hampered by the Eurozone's significant slowdown.
Imports from the European Union increased by 3.7% while exports rose by just 0.9% in September. The UK's trade deficit with the region grew to £5.773 billion from £5.250 in the previous month.
The difference between exports and imports with non-EU nations was (minus) £(4.048) billion compared to August's (minus) £(3.7 billion).