The UK is embracing new electric vehicle technology and is at the forefront of adapting to what could be a complete automotive revolution.
Highways England announced that later this year it is going to test technology capable of powering electric and hybrid vehicles as they travel along England's major roads.
The plan is to install technology that would work "safely and effectively" on the country's motorways and major A roads allowing "drivers of ultra-low emission vehicles to travel long distances without needing to stop and charge the car's battery."
An off-road testing site will be built later this year in England – where the trials will take place.
Vehicles will be fitted with wireless technology, allowing them to charge up using unspecified equipment installed underneath the ground.
The tests will help determine whether the charging tech could work on the UK's busiest roads.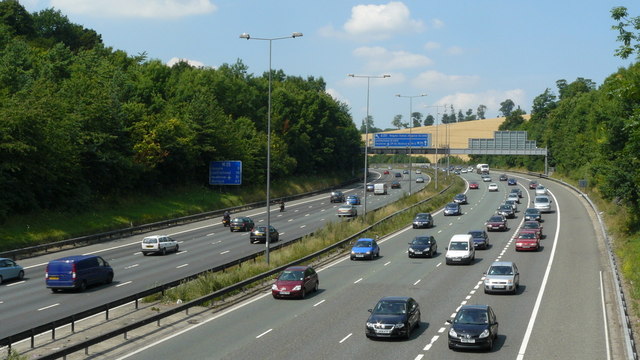 Soon motorways in the UK , such as the M25 (pictured above), may have tech capable of charging electric cars as they drive.
How does it work?
The technology that will allow cars to charge as they drive is charging vehicles is Shaped Magnetic Field in Resonance (SMFIR).
SMFIR charges vehicles electronically through a magnetic field to generate electric charge. Power comes from electrical cables installed underneath the road, creating magnetic fields. Vehicles are installed with a receiving device installed on the underbody that can convert these fields into electricity.
What's more, SMFIR can continuously operate without the need to be pulled out of service for recharging.
Creating a more sustainable road network
The British government already said it is committing £500 million over the next five years to develop wireless power transfer for cars.
Transport Minister Andrew Jones said:
"The potential to recharge low emission vehicles on the move offers exciting possibilities. The government is already committing £500 million over the next five years to keep Britain at the forefront of this technology, which will help boost jobs and growth in the sector.
"As this study shows, we continue to explore options on how to improve journeys and make low-emission vehicles accessible to families and businesses."
Highways England Chief Highways Engineer Mike Wilson said:
"Vehicle technologies are advancing at an ever increasing pace and we're committed to supporting the growth of ultra-low emissions vehicles on our England's motorways and major A roads.
"The off road trials of wireless power technology will help to create a more sustainable road network for England and open up new opportunities for businesses that transport goods across the country."
If the project tests are successful then it will make driving electric vehicles a lot more convenient, removing the need to stop and recharge batteries on long journeys. In fact, roads with the tech will help address the distance restrictions of electric vehicles.
---