The UK trade deficit in goods and services shrank in August to £1.9 billion from £3.1 billion in July, the Office for National Statistics (ONS) reported on Friday. Both imports and exports fell in August, but imports declined more sharply.
This is the first time in five months that the trade in goods deficit shrank, the ONS said.
Exports declined by £0.7 billion to £23.2 billion. The one-month's level of exports has not been so low in nearly four years. Oil exports accounted for £0.6 billion of the fall.
Exports of medicinal and pharmaceutical products fell by £0.3 billion in August compared to July.
August imports declined by £2 billion compared to July, the largest one-month fall since July 2006, the ONS informed. While some of the fall was due to a return to typical levels after July's import increase, much of it was attributed to a £1.1 billion drop in imports of erratic items.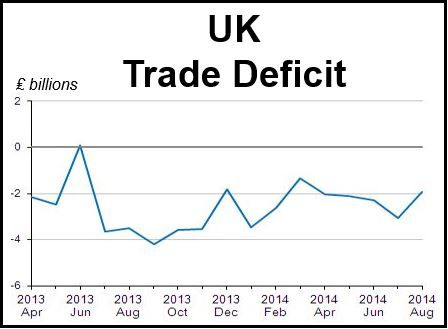 (Data source: Office for National Statistics)
Imports of aircraft and non-monetary gold declined the most among the erratic items, accounting for over half the decrease.
Even after factoring out these erratic items, significant declines in the imports of chemicals (£0.3 billion) and fuels (£0.6 billion) still had a considerably depressing effect on the market.
For the three-month period ending in August 2014, the trade deficit grew by £2.7 billion to £29.2 billion, which reflects a £0.5 billion increase in imports and a £2.2 billion fall in exports.
The last time these contrasting movements were seen was in the three-month period ending in October 2013.
The UK continues running a surplus in its services trade, exporting more than it imports.
On Thursday, the British Chambers of Commerce said the decline in exports demonstrates that something radically different needs to be done. It added that improving the country's trade performance will be challenging.
The ONS also informed on Friday that construction industry output in August declined by 3.9% compared to July.