Glenn Murphy is stepping down as CEO of American multinational clothing and accessories retailer Gap Inc., while nine-year veteran head of the retailer's digital division Art Peck will become the new chief.
Ever since taking the helm in 2007, Mr. Murphy's tenure at the San Francisco-based retailer has been impressive. In 2013, the company posted a five-percentage point increase in operating margin since 2007. During Mr. Murphy's seven years leading the company, its share price has more than doubled.
Recently, however, Gap's share price has wobbled, while some initiatives have not provided the results everybody had expected.
Gap's supply chain overhaul that was supposed to provide results this year, will not do so until 2015, the company says. The Gap brand has seen same-store sales continue to fall.
Mr. Murphy's announcement that he was leaving the company surprised both analysts and the market.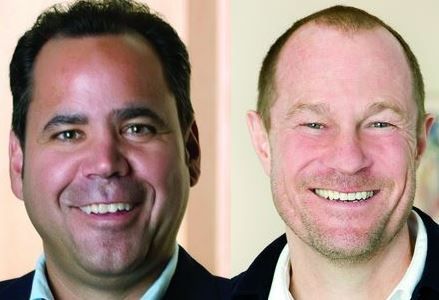 Glenn Murphy (left) steps down, Art Peck takes over.
When Mr. Murphy's retirement was announced on Wednesday, Gap's share price predictably sank. In after-hours trading it fell by 7%, and then by another 12% on Thursday morning. By Thursday afternoon stock prices recovered slightly.
Many investors believe, however, that the 58-year-old Harvard MBA and Boston Consulting Group alum, Mr. Peck, will do for Gap what he achieved in its e-commerce unit.
Mr. Peck, who has been in charge of growth, innovation and digital, oversaw the acquisition of Athleta in 2008, which started off as an exclusively online seller and now has several physical shops. In 2012, he led the $130 million takeover of Intermix, the luxury womenswear boutique.
Over a period of six consecutive quarters ending in 2012, Mr. Peck oversaw non-stop growth of the original Gap brand. Working closely with Mr. Murphy, he organized Gap's entry into the Chinese market.
Mr. Peck also launched franchises in 40 countries of Old Navy, Banana Republic and Gap.
In an interview with CNBC, Bobby Martin, a Gap lead independent director, insisted there is nothing behind Mr. Murphy's move. He explained that it was solely Murphy's decision to leave. Apparently, he had been telling the Gap board since the beginning of the year that he wanted to retire, while the board wanted him to stay on.
Mr. Martin said:
"We would have loved for him to stay, but we accepted his very personal choice and appreciate his willingness to stay for the smooth transition. Gap needs a strategy to move it forward, and [Murphy] didn't think he had the longevity to see it through left in him. We respect Glenn has the wisdom to hand it off at the right time."
Gap had hired a headhunting firm to help it find a replacement for Mr. Murphy. The board eventually decided Mr. Peck would be the best choice. He was told last week that he would become the new CEO on February 1.
Mr. Murphy said in a statement:
"Today, Gap Inc. is a formidable global fashion retailer with a strong foundation in place for long-term growth, therefore making this an appropriate inflection point for me to pass the baton to a leader who will take our portfolio of brands to even greater heights. With consumer expectations rapidly evolving, Art is the right leader at the right time to build on our success and ensure a compelling experience for our customers across both our physical and digital channels."
Mr. Peck said:
"I'm honored to be given the opportunity to lead this company with such powerful brands and incredible talent – a combination that sets us apart globally. Our success will be based upon presenting brand-right, emotional product to our customers, both in stores and online. Building upon the foundation Glenn has established, we will be focused on continuing to execute our strategy to drive long-term shareholder value."