UKIP has set its sights on Scotland, where it plans to field candidates in every single constituency – 59 parliamentary seats – in May's general election. So the anti-EU party said as it formally launched its campaign on Saturday.
According to David Coburn, a Member of the European Parliament for the Scotland region for the UK Independence Party (UKIP), his party could win several seats north of the border.
Mr. Coburn, the party's only elected lawmaker in Scotland, who will be standing in the Falkirk constituency, says UKIP has 40 candidates so far for Scotland and hopes it will find the remaining 19 to compete in the whole country.
UKIP MEP David Cobun is contesting the Falkirk seat, which is currently held by Eric Joyce MP (Independent), who is standing down. (Image: Young Independence)
UKIP launched its election campaign with lots of fanfare and excitement at the Renfield Centre, Glasgow. Candidates across the whole of the UK attended the event.
NHS nurse to stand against Alex Salmond
Emily Santos, a 26-year-old NHS nurse from Inverurie, Aberdeenshire, will be standing for UKIP contesting the Gordon seat against former First Minister Alex Salmond.
The Gordon seat is currently held by the Lib-Dems. Lib-Dem candidate Christine Jardine is tipped as second-favourite after Mr. Salmond.
Ms. Santos said:
"I work in a community hospital just outside Aberdeen. I know what it is like for the health service right now. The NHS is something I am passionate about and know a lot of. That is my ticket, if you like. I am not daunted at all by the fact I am standing against Mr. Salmond. I'm looking forward to it."
Mr. Coburn is convinced Ms. Santos has an excellent chance of winning the seat. "She has good reason to have a go at Salmond, and quite frankly, she'll do a very good job. I think she'd be an extremely capable MP (Member of Parliament)," he said.
Kevin Newton, regional organizer, will be standing against Scotland's only conservative MP, David Mundell, in Dumfriesshire, Clydesdale and Tweeddale.
Arthur Misty Thackeray, UKIP's Scottish Chairman, will stand against Labour MP Margaret Curran in Glasgow East.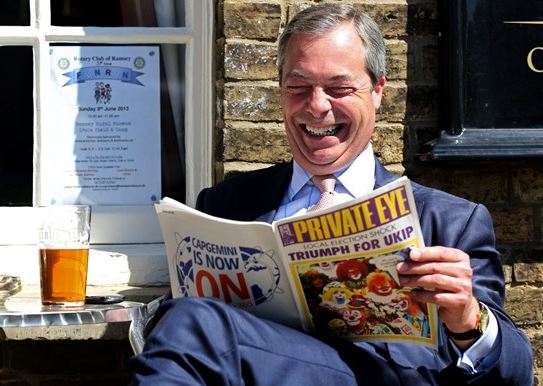 UKIP leader, Nigel Farage, has many features and lifestyle habits the average Brit can identify with, something the leaders of the other main parties are said to lack.
Mr. Coburn, who believes UKIP should win several seats in Scotland, said:
"We intend to get as many seats as we can, it's difficult to say how many. This is the most unpredictable election in 100 years. People are fed up, people want change, they're fed up of the same old, same old. So I think they're turning to UKIP in droves."
"They are in the south of England, they are now in the north of England and when you see me getting elected in the European election it looks like Scotland's time to go that way as well."
The Labour Party, which fears losing votes to UKIP in the north of England, announced that Lord Prescott, who was Deputy Prime Minister for ten years, will become Ed Miliband's special adviser with responsibility for climate change.
UKIP Video – Nigel Farage launches election campaign