Urban Outfitters reported third quarter results on on Monday that didn't meet Wall Street expectations.
The Philadelphia-based company posted earnings of $47.1 million (35 cents per share) in the period that ended Oct. 31, down from $70.3 million, or 47 cents per share, last year.
Revenue was up from last year's third quarter of $774 million to $814.5 million. However, according to a poll by Zacks Investment Research, analysts were expecting earnings of 42 cents per share on revenue of $818.4 million.
Its share price fell by 5 percent in extended trading. Since the beginning of the year Urban Outfitters shares have fallen by 17 percent, now at around $29.19.
Urban Outfitters did not meet Wall Street expectations in its third fiscal quarter. 
Revenue from stores that have been open for at least one year declined by 1 percent.
Urban Outfitters owns and operates the Urban Outfitters, Anthropologie and Free People brands.
The company, which saw improvements in its Free People and Anthropologies brands, was affected by poor store performance at its Urban Outfitters brand.
Revenue from its Free People and Anthropologie brands gained 15 percent and 2 percent respectively. However, its namesake Urban Outfitters brand suffered a seven percent drop in revenue.
Net sales by brand and segment for the three and nine month periods were as follows: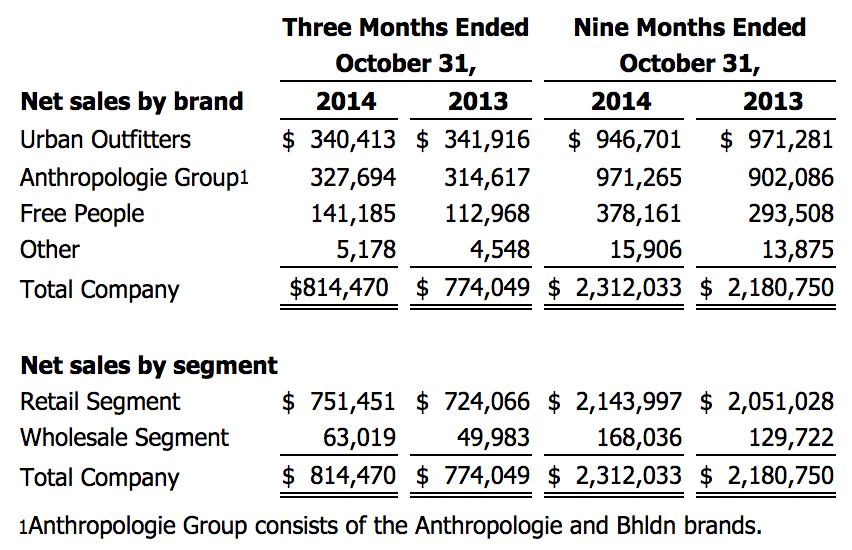 Richard A. Hayne, Chief Executive Officer of Urban Outfitters, said:
"While we are pleased with delivering record third quarter sales fueled by strong performances at our Anthropologie and Free People brands, I am disappointed by the results at the Urban Outfitters brand,"
He concluded:
"There is much work to be done to improve the merchandise margins and store performance at the Urban brand, but I see positive signs as shown by strong results at the brand's direct-to-consumer channel,"