Researchers have carried out a study on how AVs may affect the future of urban tourism. The letters 'AVs' stand for 'autonomous vehicles.' Urban tourism refers to tourism within cities. In other words, multiple tourist activities in which the town or city is the main destination and place of interest.
Urban tourism contrasts with rural tourism, which showcases rural life, heritage, and culture at rural locations.
The researchers, from the Universities of Surrey and Oxford, wrote about their study in the Annals of Tourism Research. There is a citation of the article at the end of this text.
An autonomous vehicle is a vehicle that can move and guide itself without a human driver. In other words, it is a self-driving vehicle. Hence, we also call them 'driverless vehicles.'
AVs – from science-fiction to reality
For many of us, automated vehicles still belong to the realms of science fiction. In the 1960s we had the movie The Love Bug, and in the 1980s the series Knight Rider. In 2002, the film Minority Report came out. All those movies and series had two things in common. They were fiction stories and all featured AVs.
According to Debbie Hopkins and Scott Cohen, AVs could be circulating in our roads as soon as 2025. They also believe that AVs could have a dramatic effect on urban tourism.
Hopkins is a Department Research Lecturer in Transport Studies at the University of Oxford's Transport Studies Unit. Cohen is a Professor of Tourism and Transport at the University of Surrey's Department of Tourism and Transport.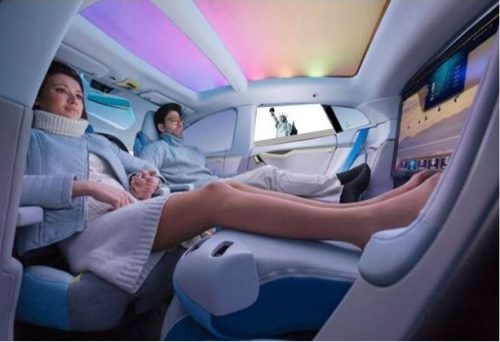 Impact of AVs on urban tourism – pros and cons
In their paper, the authors imagine the impact of AVs in future urban tourism. They focus on the benefits and harms of these impacts with regards to the increase in autonomous taxis and the transformation of urban space.
They also look at the changes to hospitality in the urban night and city sightseeing.
Beneficial impact on urban tourism:
Some of the potential benefits include:
– Less traffic congestion (fewer traffic jams).
– Lower emissions; in other words, less pollution.
– Better foreign car hire processes.
– Cheaper taxi fares.
– Reduced parking requirements.
The presence of AVs could also change how other industries function in radical ways. Amsterdam's Red Light District, for example, may have moving AVs in which sex workers operate.
Negative impact
– Hotels and restaurants might suffer as AV dining cars start to emerge. There may also be passengers sleeping in moving vehicles. This is a negative consequence for bricks and mortar hotels and restaurants, but not necessarily for other people.
– More time spent in AVs on longer journeys could facilitate even greater urban sprawl.
– People might become more dependent on vehicles.
– The potential for terrorism facilitated by AVs raises genuine fears for people's security.
Prof. Cohen said:
"This groundbreaking study will benefit urban planners, policy makers and the tourism and hospitality industries, who will face a range of threats and opportunities as AVs begin to reach the mass market in the coming decade."
"The visitor economy will be gradually transformed if AVs become fully automated and mainstream, leading to a future where hordes of small AVs could congest urban attractions, hop-on hop-off city bus tours may go out of business altogether, motorways between cities could fill at night with slow-moving AVs carrying sleeping occupants and commercial sex in moving AVs becomes a growing phenomenon."
The article coincided with European Tourism and World Travel Market day (7th November). It acts as a timely reminder of the growing importance of autonomous vehicles in tourism to policymakers and industry.
Citation
"Autonomous vehicles and the future of urban tourism," Scott A.Cohen and Debbie Hopkins. Annals of Tourism Research, Volume 74, January 2019, Pages 33-42. DOI: https://doi.org/10.1016/j.annals.2018.10.009.