US capital market competitiveness in Q4 2013 remained weak, with US public equity market aversion at its highest level since the onset of the 2007/8 financial crisis, according to the Committee on Capital Markets Regulation.
Capital markets are financial markets where equity-backed securities or long-term debt are traded. Examples of highly-organized ones are the New York Stock Exchange, NASDAQ, and the London Stock Exchange.
Prof. Hal S. Scott, Director of the Committee on Capital Markets Regulation, said:
"I remain very concerned about the path U.S. capital markets have taken. Nothing indicates that our capital markets are on the road to competitive recovery."
Several market competitiveness key measures showed significant declines over previous years, including:
US share of worldwide IPOs by foreign firms
America's share of global IPOs by oversees companies remains at 7%, its lowest level since 2008, and far lower than 11.4% registered in 2012.
The average during the 1996-2007 period was 26.8%.
Low US share of top 20 global IPOs
Not one of the top 20 worldwide IPOs last year occurred in American public markets.
Add to this the low share in 2011 and 2012 (three and one IPOs respectively), and one can see a prolonged preference by the majority of the most significant new issuers to shun US public equity markets.
Preference for private rather than public markets
Foreign firms that raised capital in America in Q4 2013 did so "overwhelmingly" through private and not public markets.
More than 89% of IPOs of foreign equity in the US were conducted via private Rule 114A offerings instead of public offerings. This is the highest level of aversion since 2008, and significantly higher than the 66.1% average during the 1996-2007 period.
US share of global share trading value
There has been an alarming fall from 47.5% in 2012 to 42.6% in 2013, far below the 50.6% average seen from 1990 to 2007.
Hal Scott wrote:
"This fourth quarter result continues the alarming concern that the steady erosion in U.S. competitiveness in primary markets is spreading to secondary markets."
Percentage of IPOs by US issuers listed only abroad
The proportion of American firms floating their companies abroad rose to 3.3% in Q4 2013, after falling to 0.7% in 2012. This supports the view that the 2012 fall was due to the softness in European equity markets following the recent sovereign debt crisis.
The Committee is deeply concerned about US capital market competitiveness, given that US public issuers are avoiding their natural home market in growing numbers.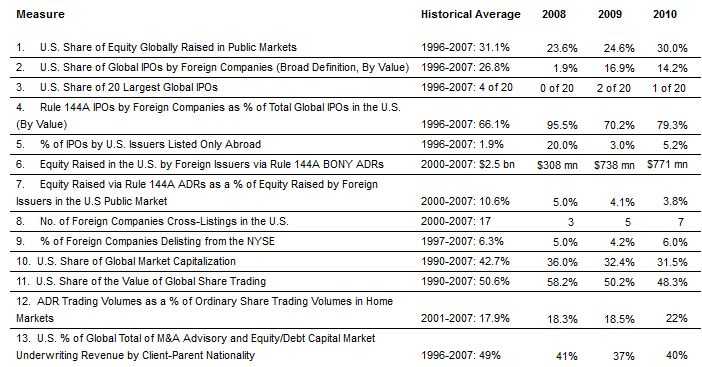 (SOURCE: Committee on Capital Markets Regulation)
New regulations should not put companies off
The CCMR believes that the policy recommendations contained in its 2006 Interim Report are crucial for the restoration of US capital market competitiveness.
Scott said:
"We urge regulators implementing the provisions of the Dodd-Frank Wall Street Reform and Consumer Protection Act to minimize the adverse competitive effects of new regulations, particularly in areas where the U.S. regulatory approach differs significantly from competitor markets."
Written by [google_authorship]