US labor market conditions improved in October as the economy gained 161,000 jobs and employers increased wages for workers, according to an employment report published four days before the US presidential election.
The US Department of Labor said that nonfarm payroll employment increased by 161,000 in October, while the unemployment rate dropped to 4.9%.
Health care employment rose by 31,000, employment in professional and business services rose by 43,000 and employment in financial activities increased by 14,000.
According to the report, employment in other major industries, including mining, construction, manufacturing, wholesale trade, retail trade, transportation and warehousing, information, leisure and hospitality, and government, "changed little over the month."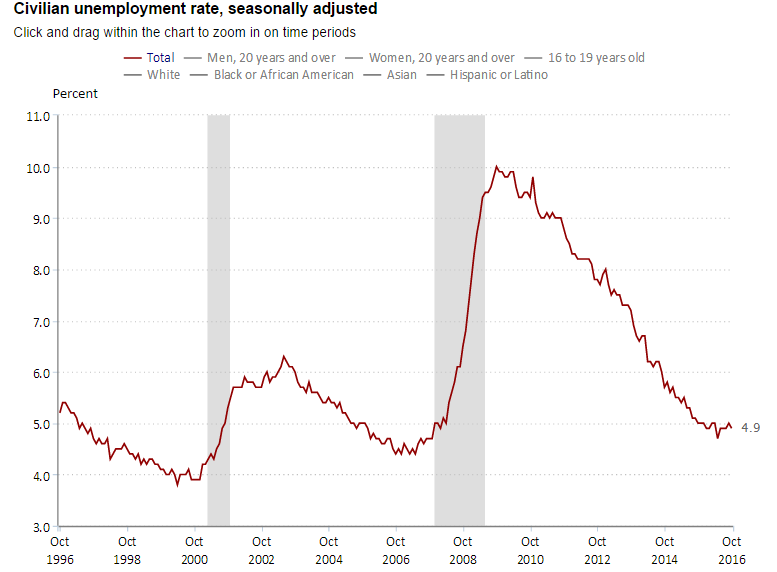 Average hourly earnings increased by 10 cents or 0.4 percent in October – a year-on-year gain of 2.8 percent and the fastest pace since June 2009.
The Labor Department Job also revised August's jobs figure from 167,000 to 176,000, and September was revised from 156,000 to 191,000.
Over the past three months hiring averaged 176,000 per month. So far this year, employment growth has averaged 181,000 per month, compared with an average monthly increase of 229,000 in 2015.
Stuart Hoffman, chief economist with PNC, was quoted by The Guardian as saying: "The three-month moving average of job growth was 176,000, about double the pace needed to keep up with underlying growth in the labor force, allowing for a continued diminishment of labor market slack."
---
---
Overall, the employment report reveals improvement in US labor market conditions, increasing the likelihood of the US Federal Reserve hiking the benchmark interest rate before the end of the year.
On Wednesday, the Federal Open Market Committee noted that "the case for an increase in the federal funds rate has continued to strengthen" but it decided, "for the time being", to wait for some "further evidence of continued progress toward its objectives."
The FOMC reiterated that "the stance of monetary policy remains accommodative, thereby supporting further improvement in labor market conditions and a return to 2 percent inflation."