US home price increases are slowing down, according to S&P/Case-Shiller. The 10-City Composite was up 4.8% year-over-year in September, down from August's 5.5%, while the 20-City Composite gain fell to 4.9% from 5.6% in September and August respectively.
The home price index covering the whole country increased 4.8% in September compared to 5.1% in August.
On an unadjusted basis, the 10-City and 20-City Composites did not change from August to September, while the national index slipped by 0.1%. According to S&P, this was the first national fall since November 2013.
Seasonally adjusted, the US index rose 0.7% in September from August, while the 10-City and 20-City Composites increased by 0.3%.
Weak pay growth and stricter lending conditions have slowed down home demand in the United States. Economists say that many households continue with financial problems that emerged during the Great Recession.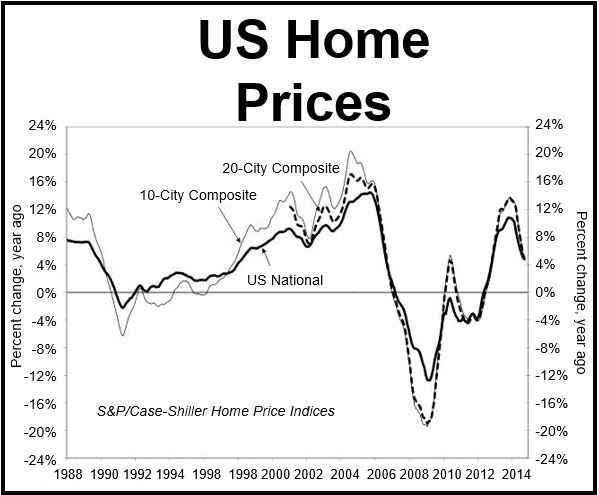 Source: S&P Dow Jones Indices.
David M. Blitzer, managing Director and Chairman of the Index Committee at S&P Dow Jones Indices, said:
"The overall trend in home prices increases continues to slow down. The National Index reported a month-over-month decrease for the first time since November 2013. The Northeast region reported its first negative monthly returns since December 2013 and its worst annual returns since December 2012 due to weaknesses in Washington D.C. and Boston."
"The West and Southwest, previously strong regions, are seeing price gains fade. The only region showing any sustained strength is the Southeast led by Florida; price gains are also evident in Atlanta and Charlotte."
In South Florida, home price rose 10.3% in September year-over-year. The metro Miami area, which includes Palm Beach, Broward and Miami-Dade counties, posted the largest annual gain of any of the metros in the 20-City Composite.
Compared to August, prices in September in the Miami area edged up by 0.6%.