Montreal-based retailer Reitmans Limited announced on Tuesday that it is going to shut down all its 107 Smart Set stores over the next 12 to 18 months, as part of its strategy to improve profitability.
Even though there have been some recent improvements in the performance of the Smart Set banner, Reitmans' management decided that its best strategy to enhance its operating results was to shift its sales and merchandising efforts to converting about 76 Smart Set stores to other banners and permanently shut down 31 stores.
For the 12-month period ending on February 1, 2014, the Smart Set banner represented about 10% of Reitmans' total annual sales. Smart Set sales for that period amounted to approximately $96 million.
One-off costs related to the Smart Set banner closure will be about $2.2 million, which will be reflected in the Company's 3rd quarter results, Reitmans said in a statement.
Reitmans does not anticipate any inventory write-downs or material employee severance costs. On December 4th, the company will be reporting its results for the 9-month period ended November 1st, 2014.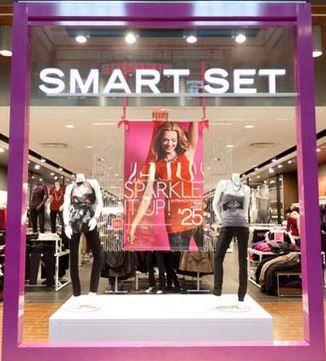 Seventy-six of the 107 Smart Set stores to be closed down will be reopened under different banners.
Reitmans has nearly 800 apparel stores under several banners such as Reitmans, Thyme Maternity, Addition Elle, Penningtons, and RW & CO.
The company that was founded in 1926 by Herman and Sarah Reitman has been facing fierce competition from the United States and other retailers from abroad that have made headway in the Canadian market.
Reitman's had been trying to refocus its Smart Set banner to appeal to younger career women. The new focus came about as competition intensified considerably and prices fell.
In an interview with The Canadian Press, CEO Jeremy Reitman said:
"It's a very, very difficult market and I guess we never had the appropriate focus for that particular customer (young career women)."
Over the past two years, shares in Reitmans have dropped by nearly 50% despite the shutting down of dozens of stores.