US January retail sales declined in comparison to December, as consumers spent less eating out, on clothing and automobiles during a month of exceptionally bad weather.
The inclement weather kept many consumers either at home or very close to home, thus reducing the number of trips to car sale showrooms and shopping malls.
Recently published figures have shown that job growth and increases in income have slowed down over the last two months, indicating that shoppers are probably finding it hard to keep up the pace of spending after a rapid increase during Q4 2013.
A Bloomberg survey of 86 economists had predicted no change in January.
January 2014 had the biggest fall in retail sales in ten months. According to the Department of Commerce, US January retail sales fell 0.4% to $427.8 billion, after falling 0.1% in December (December had been registered as an increase but was later revised down), i.e. two successive months of decline.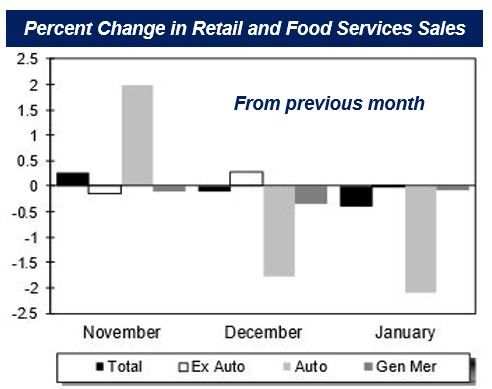 US January retail sales fell for second month running
Total retail sales from the beginning of November through January 2014 were 3.4% higher than during the same period a year ago.
The recent steady growth in retail sales volume appears to have lost its momentum, economists comment. Is this a sign of smaller-than-expected GDP (gross domestic product) growth for 2014?
Automobile sales dropped 2.1% in January. Retail sales were the same in January as in December if one excludes the sale of building supplies, gas and vehicles.
Retails sales have increased 2.6% over the last year, the Commerce Department informed.
Vehicle sales
Car companies say bad weather had a negative effect on sales in January, which had been doing exceptionally well during the country's economic recovery.
Cars and light trucks were sold at 15.2 million (annualized pace) in January, compared to 15.3 million the month before. Even so, 2013 was the best year for vehicle sales since 2007.
Sales in shops
Below is a list of how some retail outlets fared in January 2014:
Department stores, a decline of 1.5%.
Clothing chains, a decline of 0.9%.
Furniture stores, a fall of 0.6%.
Sporting goods music and book stores, a fall of 1.4%.
Electronic stores sales climbed, and also rose in grocery chains, gasoline stations and building material outlets.