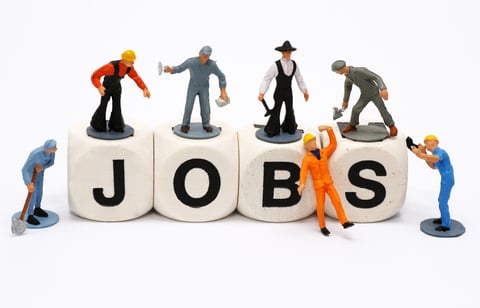 The US economy added 304,000 non-farm payrolls in January, beating expectations of 165,000.
December's gains were revised down to 222,000 from 312,000, while November's rose from 176,000 to 196,000. The average monthly gain was 223,000 for the full year of 2018.
January marked 100 months of consecutive job creation – the longest streak on record by far.
In January:
Employment in leisure and hospitality rose by 74,000.

Construction employment rose by 52,000

Employment in health care increased by 42,000

Employment in transportation and warehousing rose by 27,000

Retail trade employment rose by 21,000

Mining employment edged up by 7,000

Employment in manufacturing rose 13,000

Employment in professional and business services rose 30,000

Employment in federal government rose 1,000
The unemployment rate increased to 4.0%. The increase was primarily because of government workers identifying as temporarily laid off during the shutdown.
The labor force participation rate rose from 63.1% in December to 63.2% in January – the highest level since 2013.
Average hourly earnings rose 0.1% in December and 3.2% over last year.
The report comes after Fed officials said in their policy statement on Wednesday that inflation pressures were "muted."
Megan Greene, chief economist at Manulife Asset Management, examines the U.S. January jobs report and what it could mean for the Fed's interest rate path https://t.co/qDUgaJ1Xzi pic.twitter.com/mg62qWsZmz

— Bloomberg (@business) February 1, 2019
U.S. Secretary of Labor Alexander Acosta today issued the following statement regarding the January 2019 Employment Situation report:
"January's Job Report demonstrated the strength of the American economy, with 304,000 jobs added as private sector job creation continued to surge despite the partial government shutdown. Significant growth in the mining, construction, and transportation and warehousing sectors led the report.
"The unemployment rate ticked up 0.1 percentage point to 4.0%, largely as a result of the temporary lapse in federal government funding, yet this is the 11th consecutive month that the unemployment rate has been at or below 4.0%.
"Average hourly earnings rose by 3.2%, marking the sixth straight month in which year over year hourly earnings have been growing at or above 3%. Average weekly earnings rose at an even more robust 3.5%, year over year.
"Another key indicator in the report pointed to the increase of the labor force participation rate to 63.2%, the highest rate since August 2013.
"As the jobs and employment data normalizes over the coming months, we are confident the nation's economy will continue to build on the strength seen in 2018 and the first report of 2019."