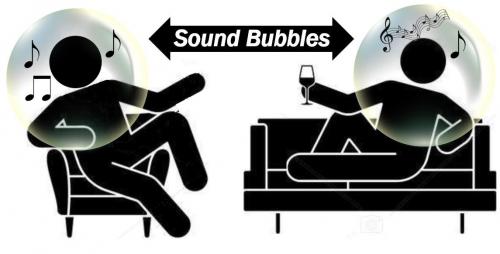 A researcher has created a unique sound algorithm that creates isolated sound bubbles. With the sound bubbles, several people in the same room can listen to different soundtracks without disturbing one another.
For his unique sound algorithm, Taewoong Lee, of Aalborg University (AAU), has been awarded the North Jutland University Foundation's Innovation Prize.
During the AAU PhD ceremony, Per Michael Johansen, Rector and Chair of the North Jutland University Foundation, said to Taewoong Lee:
"With your approach to research, you ensure that science and the knowledge obtained are directly applicable in society and will move development in new ways. Your work is thus genuinely deserving of this recognition."
One day we may be able to listen to music and other sounds privately without using headphones. A research team at Aalborg University has developed a technique that creates several small zones of sound – sound bubbles. These zones remain self-contained within a given environment.
Sound bubbles have great commercial potential
The researchers believe that the sound bubbles offer great commercial potential. They are in the process of patenting their technique.
A patent is a certificate that protects an inventor or creator from illegal copying or sales of his or her invention. If you have patented your creation,  others can only use it with your permission.
Imagine two parents in a car listening to different sounds without headphones. The kids in the back could be watching a movie. Family members, all sitting in the living room, will be able to listen to their own choice of entertainment. Not only will they not hear each others' sound but they'll be able to do this without headphones.
According to an AAU press release:
"The technique can also be used at concerts and festivals where it can prevent sound on different stages from blending or disturbing neighbors."
Taewoong Lee said:
"We aim to control multiple listening areas for different audio content in the same space without using headphones."
"This can be done by controlling a number of loudspeakers so that the desired signal for each area is heard undistorted while leakage from the other listening areas is suppressed as much as possible. This is what we call sound zone control."
The Innovation Prize – a springboard for the sound bubbles
Taewoong Lee and his colleagues hope that the Innovation Prize helps attract investors from the sound industry.
Taewoong Lee said:
"When I first heard about winning the award I thought it was a scam. But later I became more confident in our work, because it means that people acknowledge what we are working on and see all the potential behind it."
The DKK 50,000 annual North Jutland University Foundation's Innovation Prize is an acknowledgment of and support for one doctoral student. The Prize is in recognition of the student's major innovation potential.
Video – Sound Bubbles
In this AAU video, Taewong Lee talks about his special algorithm that creates sound bubbles.