US June unemployment falls by 0.2 percentage point to 6.1%, its lowest level in nearly six years, the Bureau of Labor Statistics informs. Non-farm payroll employment rose by 288,000. Figures were better than economists had forecast and pushed the Dow Jones Industrial average above 17,000, a new record.
Job growth has increased by (average) 272,000 per month over the past three months.
The number of people out of work declined by 325,000 to 9.5 million. Compared to June 2013, the unemployment rate fell by 1.4 percentage points and the number of unemployed people dropped by 2.3 million.
Figures for the second quarter are encouraging after Q1 registered an alarming -2.9% GDP contraction. Severe weather conditions had pushed output down considerably.
Employment gains across all sectors
Job gains were seen across the economy, led by professional and business services, health care, food services & drinking places, and the retail trade.
Below are some data of unemployment rates in June among major worker groups:
Adult women: 5.3% (fell),
Adult men: 5.7% (little changed),
Teenagers: 21% (little changed),
Whites: 5.3% (little changed),
Hispanics: 7.8% (little changed),
Asians: 5.1% (little changed).
Long-term unemployment
US authorities define long-term unemployed as being out of work for at least twenty seven weeks.
The number of long-term unemployed people in the US in June fell by 293,000 to 3.1 million, and accounted for 32.8% of all people out of work.
Economists say long-term unemployment, a problem in most advanced economies, is too high in the United States. A study carried out by researchers at the Brookings Institution revealed that just 11% of unemployed Americans manage to regain meaningful, sustainable jobs, while the rest tend to say out of work for the rest of their lives.
The number of involuntary part-time workers, also referred to as people working part-time for economic reasons, rose by 275,000 in June to 7.5 million compared to the previous month, but fell over the past twelve months. The Bureau added that over recent months this group has shown no clear trend.
Two million people were marginally attached to the labor force in June, 554,000 fewer than in June 2013. These people are not included in the unemployment figures because they were not seeking work in the four weeks preceding the survey (but had done so at some time during the last 12 months).
There were 676,000 discouraged workers among the marginally attached in June, 351,000 fewer than in June last year. A discouraged worker is not looking for a job at the moment because he or she believes there aren't any available for them. The other 1.4 million marginally attached individuals had not sought work because they were either in education or had family responsibilities.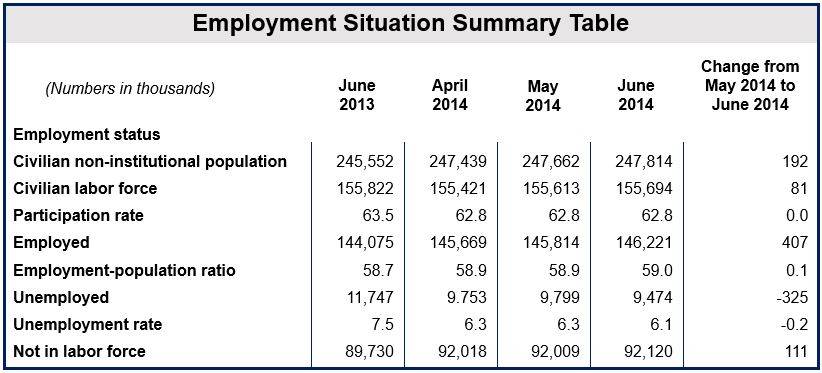 (Source: Bureau of Labor Statistics)
Breakdown of employment gains
Professional and business services: increased by 67,000 in June, having averaged a 53,000 monthly gain during the past six months. In June, there were 8,000 more jobs in management and technical consulting services, 7,000 more in architectural and engineering services, and 7,000 more in computer systems and related services.
Retail trade: rose by 40,000 compared to the previous month and averaged 20,000 more jobs each month during the past 12 months. Job growth in June in motor vehicle and parts dealers was 12,000 compared to the previous month, building material and garden supply stores rose 8,000, and electronics & appliance stores had 7,000 more workers.
Food services and drinking places: grew by 33,000 in June compared to May, and by 314,000 over the last twelve months.
Health care: employed 21,000 more workers in June than in May, and averaged monthly job gains of 18,000 over the last year. Ambulatory health care reported 13,000 more jobs in June versus May, while 6,000 more jobs were registered in nursing and residential care facilities.
Transportation and warehousing: saw jobs increase by 16,000 in June. All of the increase occurred in durable goods manufacturing.
Wholesale trade: 15,000 more people were employed in June compared to May, and 140,000 more than in June 2013.
Employees' earnings in June
Average earnings per hour increased by 6 cents to $24.45, compared to a 6-cent rise in May.
Hourly pay has increased by 2% over the past twelve months.
Average hourly pay of private-sector production and non-supervisory workers rose by 4 cents to $20.58.
Video – Employment rose 288k in June in US