US manufacturing expanded strongly in September. The Markit Flash US Manufacturing Purchasing Manager's Index (PMI) hit a 52-month high at 57.9, according to Markit Economics on Tuesday.
During the third quarter of 2014, US Manufacturing PMI averaged 57.2, which is a survey record (since 2007).
Any PMI reading above 50 signals increased business activity, while readings below 50 point to deterioration.
According to Markit Economics, strong improvement in September business conditions were partly driven by significant increases in output and new business volumes.
The latest rise in production volumes "stretched the current period of continuous expansion to five years," the report authors wrote.
Export sales across the manufacturing sector in September increased. Although September's export order growth rate was slower than August's, it was still one of the steepest over the past 36 months.
New factory jobs were driven by increased level of work from both American and foreign clients. Payroll numbers grew at the fastest rate in two-and-a-half years.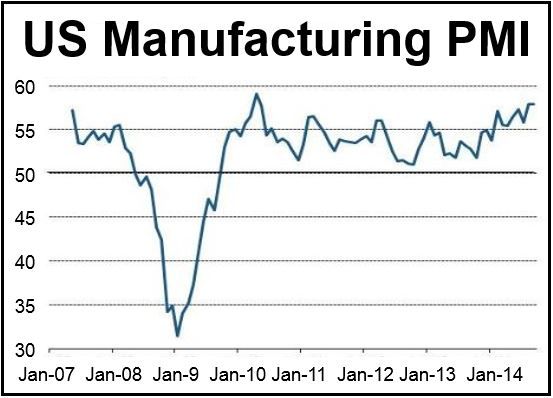 (Data source: Markit Economics)
There was a considerable increase in backlogs across the manufacturing sector in September, "while firms responded to rising workloads by increasing their purchasing activity at a sharp pace," the authors wrote.
Chris Williamson, Chief Economist at Markit, said:
"The flash PMI signaled another month of impressive growth of the US manufacturing economy. The third quarter as a whole has seen the strongest expansion since the sector began to recover from the financial crisis."
"The survey suggest the manufacturing sector will have helped drive a further robust expansion of the economy as a whole in the third quarter."
Markit forecasts that US GDP will grow by at least 3% and possibly by up to 4% in the third quarter. How much will depend largely on how well the services sector fared in September.
Mr. Williamson concluded:
"Policymakers will be comforted to see the economy growing with such strong momentum, though with every upbeat piece of economic data the prospect of an initial hike in interest rate draws closer, especially with the survey signaling an upturn in price pressures."